Liam Coen is "a top candidate" for Rams offensive coordinator job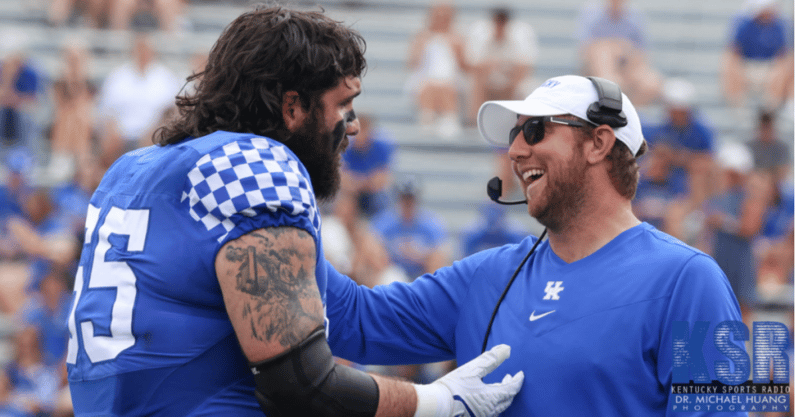 And the Liam Coen Watch continues…
On Sunday night, Ian Rapoport of the NFL Network reported that the Kentucky offensive coordinator is "a top candidate" for the same position with the Super Bowl champion Los Angeles Rams. Rapoport also reports that Rams assistant head coach Thomas Brown and assistant quarterbacks coach Zac Robinson are expected to return, with the OC job still available.
Former Rams offensive coordinator, Kevin O'Connell, was named the head coach of the Minnesota Vikings earlier this week. Coen has long been considered as a possible candidate in replacing him.
While this is definitely news, it's not exactly an clear update on the situation. Seven days ago, ESPN's Adam Schefter reported that Coen was a "prime candidate" for the Rams OC position. I'm not quite sure what the difference between "prime" and "a top" candidate is in this context, but his name has been linked to this job for a while now.
Additionally, ESPN's Jeremy Fowler reported earlier this week that the Kentucky staff is preparing for the "very real possibility" that Coen leaves for LA. Coen has already turned down a reported OC opportunity with the Miami (FL) Hurricanes, and also backed out of a different NFL OC job, which KSR's Matt Jones reports was with the New Orleans Saints.
Why Coen Could Stay at UK
Kentucky offered Coen an opportunity he could not get in Los Angeles: the chance to call plays. Assistants gain valuable schematic knowledge by watching film and curating game plans, but you cannot test that knowledge as a play-caller if the head coach is running the show. As long as Sean McVay is in the head coach in LA, he will be calling the plays.
UK can give Coen the chance to run an offense with a quarterback he recruited to Lexington that could transform into a first-round draft pick in 2022. When he was hired, most believed there was a two-year window for the new offensive coordinator before he returned to the NFL. Few jobs would change that plan for Coen, except maybe this one.
Why Coen Can't Say No
As well as things have gone for Liam in Lexington, if he is offered the job, it's an offer he cannot resist. A month from now Coen could be the offensive coordinator for the defending Super Bowl champs. McVay has established the Rams as a stable franchise and they have enough superstars under contract to keep the Super Bowl window open for at least 2-3 more years.
Most importantly, "Rams offensive coordinator" might as well be titled "future NFL head coach." O'Connell is not the first, nor will he be the last from the McVay coaching tree to become an NFL head coach. McVay's Super Bowl foe, Zac Taylor, was a former staffer. The team that shares SoFi Stadium with the Rams is coached by a former McVay assistant, Brandon Staley. The Green Bay Packers had the best record in the NFC with former Rams' offensive coordinator Matt LaFleur leading the way.