Liam Coen's offense pushed Dane Key to Kentucky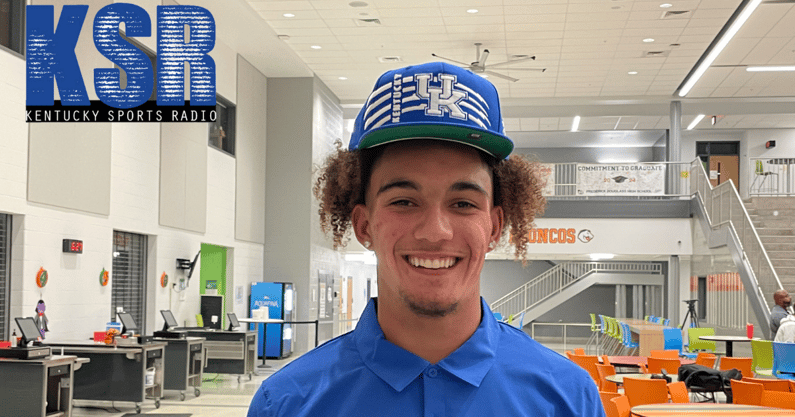 If Dane Key had to make his college decision this time one year ago, he likely doesn't choose the Kentucky Wildcats. But what's in the past is in the past, and UK has a brand new offense with the weapons and wins that will help propel the program into the future.
First-year Kentucky offensive coordinator Liam Coen has revolutionized how the Wildcats play football and it's paid off to the tune of a 6-1 record to start the 2021 season. But Coen's impact has gone beyond what happens on the field; his offense was the main reason Key ultimately chose the 'Cats on Thursday evening at Frederick Douglass High School.
"Their new offense is definitely what got me over there," Dane Key said. "Coach (Liam) Coen, he's got something special and we got it going over there."
Kentucky has gone from a team strictly limited to the rushing attack (or playing wide receivers at quarterback) to a versatile offense that can beat opponents in a multitude of ways.
Under head coach Mark Stoops, Kentucky has found plenty of success in the recruiting world, but the one position that has lagged behind all the others was at wide receiver. Coen has flipped that narrative on its head in under a year.
The opportunity for Key to potentially get on the field early also played a role. With senior Josh Ali leaving and junior Wan'Dale Robinson likely heading to the NFL, there will be plenty of chances for Key to find an early spot in 2022.
Key will also team up once again with his former Frederick Douglass stars, Jager Burton and Dekel Crowdus, who are both freshmen at UK.
"They had a big impact," Key said about Burton and Crowdus. "With them in my ear all weekend, hanging out with them on the weekends, they're always saying you could be doing this all day every weekend, and it got to me. So I'm back with my boys and we're gonna do something together."
Key's childhood best friend, 3-star ATH Ty Bryant who is also a Kentucky commit, will join all of them in two years, as well. Add in the family relationship that Key developed with associate head Vince Marrow and the rest of the staff, and his choice became easy once his decision date inched closer.
Once Key saw Coen's offense at UK, his decision made itself.