LISTEN: Dane Key is excited to "take care of business" as a Wildcat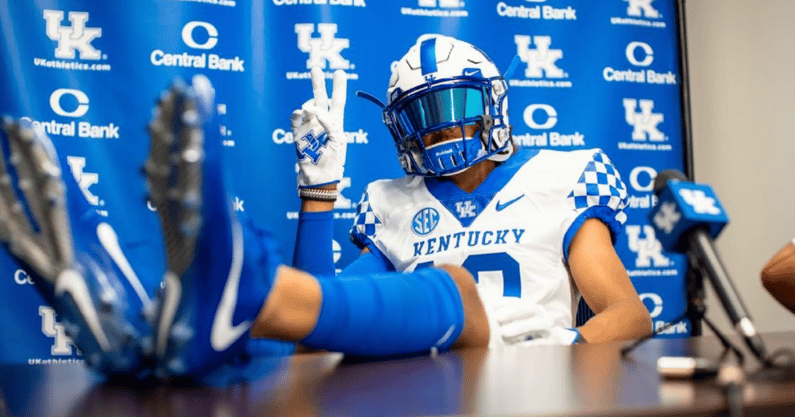 Days after officially deciding to become a Kentucky Wildcat, wide receiver Dane Key is looking ahead to his future at Kroger Field.
"We're gonna take care of business next year," he said Tuesday morning.
Key, a four-star prospect ranked as the No. 228 player in America by the On3 consensus, spoke candidly about his recruitment, the future of UK football and more on Kentucky Sports Radio.
Big Dog Barks
Even before Key was making SportsCenter Top 10 plays, Vince Marrow was recruiting the exceptional athlete from Frederick Douglass High School. Mark Stoops' righthand man brings in top-notch talent because he lives up to his nickname.
"They call him the Big Dog and he does Big Dog things," said Key. "Calling me in the locker room (at South Carolina), that's a Big Dog move, so he does what he needs to do."
In addition to doing Big dog things, Vince "keeps it real" with recruits. A consistent theme, Marrow's ability to deliver a consistent, genuine message is well-received by players and their families.
Key Loves UK's NFL Offense
While Marrow was making the big moves on the recruiting trail, Stoops made a big offseason move that propelled Kentucky's offense forward. Liam Coen's scheme made the Wildcats an attractive destination for one of the nation's top pass-catchers because it can prepare him for the NFL.
"It helped make my decision because Coach Coen brings in a NFL style offense, a pro-style offense and I know that can get me ready for my ultimate goal in the NFL. Learn from him and all the other coaches at the at the university, it can really helped me get ready for the next level that I want to achieve."
Key's older brother, Devon, set the WKU FBS career tackling record before signing with the Kansas City Chiefs' practice squad. A Zoom piped Devon into the announcement so he could watch all of the action unfold. Dane's older brother continues to serve as an inspiration.
"It's something that makes me want to work even harder, seeing what my brother has achieved. I'm trying to get to where he's at now. It's something special to me. It means a lot to me. Working to get to where he's at is something that I'm gonna do and just make my family proud."
Playing for His Old Kentucky Home
Dane will be the second Key to play for the Wildcats, following in his father Donte's footsteps. It's special to wear the same uniform, not because of the name on the back of the jersey, but for the name on the front of it.
"It is special just being a hometown kid and getting to rep state, rep my city and put us on the map."