Logan Stenberg wants to "Pop Somebody in the Mouth"
[caption id="" align="alignnone" width="620"]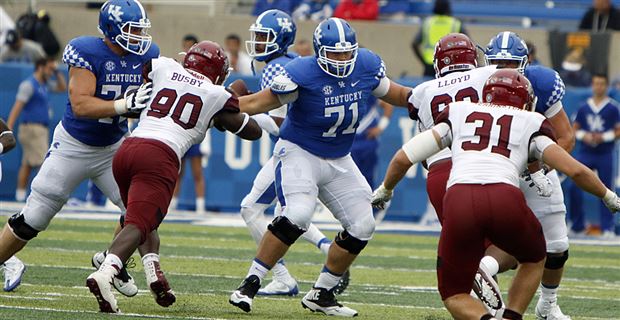 247
[/caption]
Described by his defensive
teammates
as Kentucky's "enforcer," redshirt sophomore offensive lineman Logan Stenberg is anxious to deliver blows to opponents after a month of making his teammates suffer. "I cannot wait until Southern Miss.  I cannot wait.  
I just want to pop somebody in the mouth.  I'm tired of my team
." His team is tired of him.  Linebacker Courtney Love got in a scuffle with Stenberg in practice earlier this week, a decision he now regrets. "You gotta be careful when you see 71," Love said.  "When he comes downhill, he's coming hard and he will not take no for an answer.  He's going to block you as hard as he can.  If he loses, watch out." Agile for his size (6'6" 330 lbs.), Stenberg's nasty streak is even nastier when he's moving "downhill."  Once he gets some momentum, that train is not slowing down until contact is made.  As an offensive guard, he gets many opportunities to pull and attack linebackers downfield. "I like being in the interior," Stenberg said.  "I like down-blocking, pancaking.  I like being the one they want to run behind to get a yard or two.  I really take pride in that." The nasty hitter is also a nasty trash-talker.  Denzil Ware knew he could throw jabs at Stenberg in the media without immediate retribution.  The outside linebacker called Stenberg, "a big dude with a ponytail."  He responded: "I'd rather pay for a ponytail holder than a haircut." And right now his teammates would rather see him hit an opponent than them, something that happens as they get through the long days at training camp. "We just joke on each other, always clowning," Stenberg said that's how the offensive line passes the time.  "We're always messing people's lockers up. Throwing their helmets up.  It seems stupid, but it helps us get through the day.  Being here ten hours a day,
it can drive you to want to punch somebody
, you know?"  
Hear more from Stenberg below...
https://www.youtube.com/watch?v=rUxEGnS7Ago
w