LOOK: J.J. Weaver wears 6-fingered Kentucky glove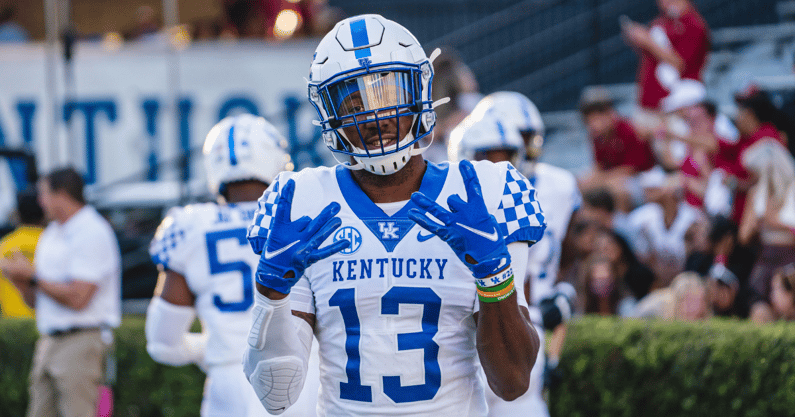 Kentucky outside linebacker J.J. Weaver fully recovered from a torn ACL in roughly nine months, but that's not even the most impressive physical note on the 6-foot-5 ball hawk. The budding sophomore star also has six fully functional fingers on his right hand.
Many of you might already know about Weaver's extra appendage, but during Saturday night's ESPN2 broadcast, in which Kentucky snuck out of Columbia with a 16-10 victory over South Carolina, we got a view of the six-fingered Nike glove that he wears during games.
While we can't say for sure if having a second right pinky helps Weaver's production on the field, it sure can't be a negative. Through the first four games of his 2021 season, the Louisville product has registered 11 total tackles, eight of them solo, including 5.5 tackles for loss and 3.5 total sacks. He's recorded at least 1.0 tackles for loss in all four outings this season.
On Saturday against the Gamecocks, Weaver finished with two tackles and one sack as the Wildcat defense held South Carolina to just 58 yards rushing and 158 yards passing.
Weaver wasn't expected to make his return at the beginning of the 2021 season, but he wound up completing his rehab well ahead of schedule. He initially tore his ACL against Florida on Nov. 28, 2020, and made it back in time to sack the UL-Monroe quarterback twice during this month's season-opener.
He was named to the All-SEC Freshman Team by the coaches despite missing the final two games of the 2020 season.
Weaver, who was a four-star recruit out of Moore Traditional High School in Louisville but grew up in Florida, chose Kentucky over the nearby Louisville Cardinals back in 2018.
As long as he's slinging opposing quarterbacks into the turf, he could have seven toes on one foot for all we care.