LOOK: Renderings for Updated Kentucky Football Indoor Facility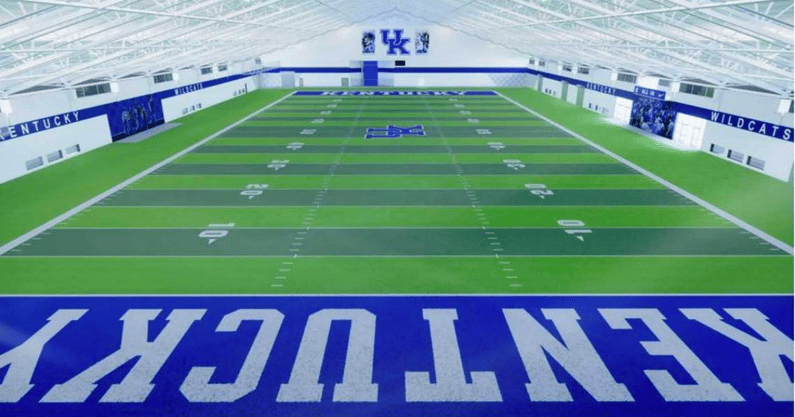 The Nutter Field House is in its final days as the indoor home of Kentucky football and Kentucky track. The 30-year-old facility is in the midst of a facelift that will give Mark Stoops' program a full 120-yard football field for the first time. Stoops has been publicly pitching for a new facility for years. Now it's finally almost a new reality.
"I'm really excited. We better have some guys step up because I'd like to have the same coverage next year when our facility here is completely done and renovated," Stoops said Friday at UK Pro Day.
"I think it's going to help us all, number one, with the function, being able to practice in here. We've been very fortunate this spring. I come in here for maybe 20 minutes sometimes, then go outside, go through walk-throughs, go through stretch, get warmed up and let the sun come up a little bit. But we've been fortunate with the weather this year. Just to be able to function and have the room and the space, it's going to really help us. And obviously, cosmetically it'll look a lot better and nicer. We're really excited about that."
We now know what the new Nutter Field House will look like. The Lexington Herald-Leader obtained renderings of the renovated facilities on the south side of campus, including the new Jim Green Indoor Tack and Field Facility.
Work has already started on the renovation. New lights were installed to brighten the old facility, while the field turf at Kroger Field has been ripped up. You can see subtle changes in the design of the new turf the Wildcats will play on this fall. The same alternating green will be present, but the checkerboard background has been eliminated.
Construction crews will tear up the turf at Nutter Field House following the conclusion of spring practice. UK Athletics is optimistic the new surface will be ready to be played on by mid-summer around July 4, providing Stoops' team a buffer zone before the beginning of fall training camp.
In addition to the expanded playing surface, new garage doors, windows and nets will be installed. Along with an enhanced graphics package, the new Nutter Field House looks like a modern college football training facility.