Louisville football's attendance sees massive drop, right when $63.25 million stadium expansion finishes
[caption id="attachment_229051" align="alignnone" width="670"]
Andy Lyons/Getty Images North America[/caption] This past year, the Louisville football program began construction on a 10,000-seat addition to the 55,000-seat Papa John's Cardinal Stadium with a hefty price tag of $63.25 million. Former athletic director Tom Jurich made the decision for the bigger and brighter stadium renovation, but according to the latest release by WDRB news, the University of Louisville is going to be regretting that decision for a long time.
In WDRB's report,
the Louisville football program saw a dramatic drop in average attendance, even with Heisman-winning quarterback Lamar Jackson behind center.
Officially, Louisville's average per-game attendance fell to 46,160 in 2017, from 54,065 in 2016. But those "announced" figures don't tell the whole story. They are merely estimates, according to athletics department spokesman Kenny Klein, that include not only fans at the game but also non-ticketed people such as concession workers, security and media, and – paradoxically – "no shows." The number of ticketed patrons coming to games was much lower, and dropped even more sharply last season than the official "announced" attendance, according to figures obtained under the Kentucky Open Records Act.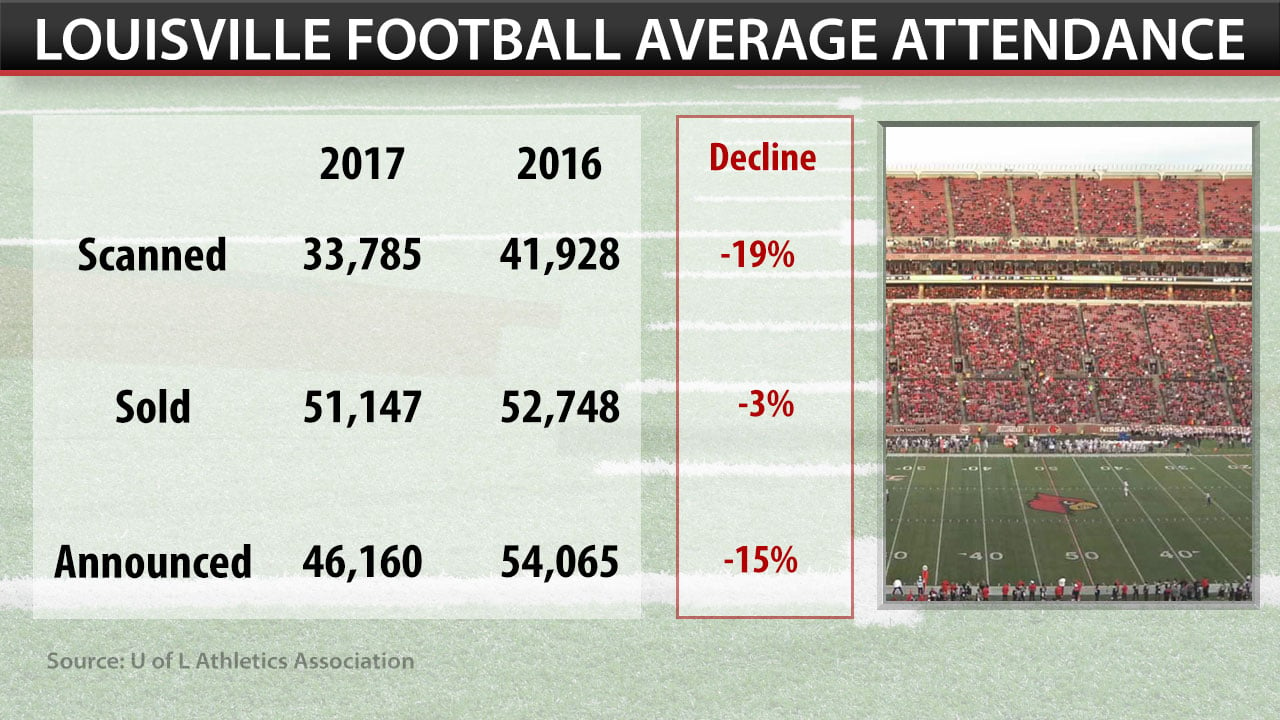 Louisville interim AD Vince Tyra said the empty seats are certainly unsettling, but they're going to work with what they have. "I know the expansion is going on and I see empty seats; it's the obvious question," Tyra said. "But, am I going to go back and try to undo the stadium (construction) and tear it back down? No. We're going to take it from here. It's a situation we have and we're going to figure out how to create business and marketing plan around what we have."
For a school that saw a $2.8 million loss
in basketball season ticket sales this season, the decline in attendance for football certainly isn't good news for the athletic department. UofL interim president Dr. Greg Postel said the basketball ticket sales are a massive disappointment, and the lack of public fan trust is understandable. "The public trust in the University of Louisville, sadly, was shaken, over the last several years and I've seen abundant evidence of this.  There's no one reason, it's a variety of factors, but it's the truth," Postel explained. I'm heartbroken. Really. I am.
Head on over to WDRB to read the entire report of UofL football's attendance issues.