Louisville WR Jordan Watkins set to enter transfer portal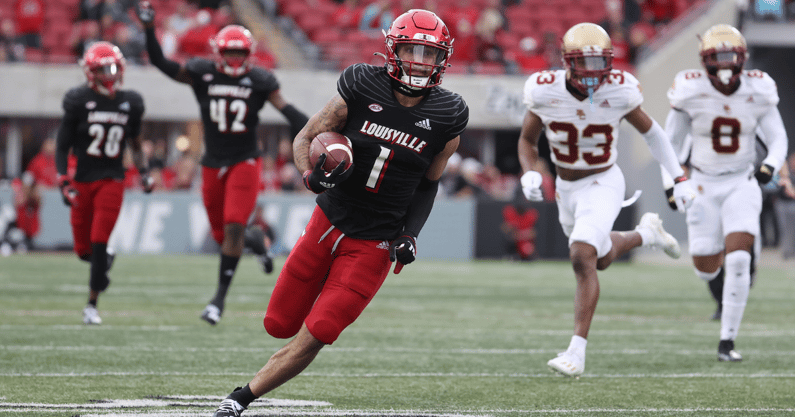 One of Louisville's leading receivers has entered the transfer portal, and it's a name Kentucky fans are quite familiar with. Jordan Watkins, a former UK commit, is leaving UofL after just two years with the program.
Dave Lackford of Rivals.com was the first to break the news last night, with Sports Illustrated's Matthew McGavic reporting the same this morning.
KSR can also confirm that Watkins will be entering the portal.
Watkins finished the regular season with 35 receptions for 529 yards and four touchdowns, all good for second on the team in 2021.
Sources tell KSR that Kentucky will not only be involved, but that the Wildcats are seen as the early favorite to land the former in-state recruit.
As a recruit, Watkins committed to Kentucky on June 22, 2019 before decommitting on Oct. 11, 2019. He took an unofficial visit to Louisville just eight days later on Oct. 19 before committing to the program on Oct. 29. The former Butler Traditional (KY) standout ultimately signed with the Cardinals over Kentucky, Central Michigan and Rutgers.
Just last week, Kentucky head coach Mark Stoops said he goes out of his way to maintain positive relationships with past recruits for situations like this down the road. With the transfer portal, players who previously went elsewhere could become available down the road.
"That's the way we've always done things. We've done that before we knew anything about this thing called the portal. That's just the way we've built our relationships," Stoops said. "We're that way — give them a handshake, and wish them the best. You can't act like it doesn't aggravate you, or hurt you, or bother you. When you don't get a guy, it's still … recruiting is personal. Anybody who says it's not, they're not working at it. 
"When you spend years building relationships, and years, and time away from family and doing things to build those relationships to get those kids, it's competitive and you want to land them."
Kentucky will get another shot to land the Louisville native this offseason.