LSU cans head coach Ed Orgeron following win over Florida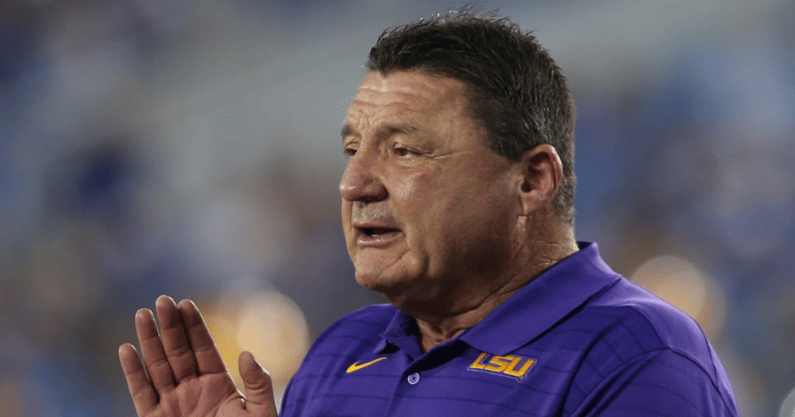 Ed Orgeron will finish out the year for the LSU Tigers, but after that, he'll be looking for a new place of employment.
According to Ross Dellenger of Sports Illustrated, LSU and Orgeron have reached an agreement that will end his time as head coach in Baton Rouge. LSU Athletic Director Scott Woodward later confirmed the report.
Orgeron will complete the 2021 season for LSU, which is now 4-3 after beating Florida 49-42 on Saturday. Dellenger reports that talks of dismissing Orgeron began last week before the UF win; coincidentally right after the Tigers lost to Kentucky last weekend in Lexington.
Hmmmm…
"From my first day as LSU's Director of Athletics in 2019, Coach O and I have maintained an open and consistent dialogue regarding the state of LSU Football," Woodward said in a letter addressed to the LSU community. "His passion and pride for our football team and for our state are unrivaled and undeniable, and, even when faced with this difficult news, he still wants what is best for the Tigers, above all else.
"I know Coach O will continue to give everything he has, as that is what he has always given our university and our state. For that dedication, for the greatest team in college football history in 2019, and for five years of relentless effort on behalf of the LSU Tigers, we are forever grateful to Coach O."
The demise of Orgeron
Orgeron is just 9-8 since winning the national championship for LSU in 2019. He is in his sixth season with the Tigers and currently holds an overall record of 49-17. But his dismissal is about more than just what happened on the gridiron.
A report by Brody Miller of The Athletic paints a picture of Orgeron's troubling personal life, including an incident where he was caught flirting with the pregnant wife of a high-ranking official at LSU. He also failed to report allegations of sexual misconduct by his players. A pretty big no-no.
Beyond that, Orgeron simply lost the locker room, the backing of the university, and eventually the fanbase. LSU is going to have to write him a fat check, too. Orgeron's buyout is over $17 million. Woof.
For our money, Kentucky will forever be known as the program that took down the Ed Orgeron era at LSU.