LSU contacts Mark Stoops via third party about head coaching job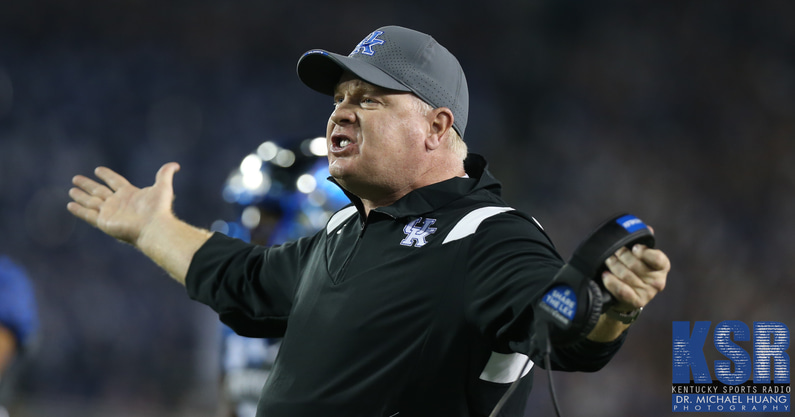 LSU has contacted Mark Stoops regarding its head coaching vacancy, sources tell KSR's Matt Jones.
To open the second hour of Kentucky Sports Radio on Friday, Jones broke the news that Stoops had been contacted for the job. If offered, it would be one the Kentucky head coach would "seriously consider."
"Mark Stoops has been contacted via a third party for the LSU job," Jones reported. "… I think there are — and I speak about this not with complete knowledge, but some knowledge — there are probably seven jobs or less that I think Mark Stoops would seriously consider leaving here for. I think LSU is one of those seven."
Jones added that LSU is also considering Alabama offensive coordinator and former Houston Texans head coach Bill O'Brien for the position. O'Brien spent six years with the Texans before joining Nick Saban's staff in January of 2021.
As things stand now, LSU athletic director Scott Woodward may favor O'Brien — among other options — over Stoops.
"I got a second message that says there is at least one other person in the fold, and the AD might even like that person more. That person is Bill O'Brien," Jones said. "So (Stoops) may not even get offered the job. If LSU were to decide Stoops was their guy, it will be worth sweating about."
Following the show, Jones added that a strong LSU source reached out to confirm Stoops and O'Brien were being considered for the job, but Texas A&M head coach Jimbo Fisher was at the top of the school's priority list. Fisher is No. 1, followed by O'Brien (No. 2) and Stoops (No. 3), in that order.
During this week's SEC Teleconference, Stoops talked about his time at Kentucky and how happy he is to be in Lexington.
"I'm really just grateful for the opportunity that I've had here and try to make the most of it," said Stoops. "… For me, heading into this year I was very excited. I made some changes to the staff. I really felt like after eight years going on nine, it was hitting the reset button for me —and it's played out that way.
"We certainly wish we could have had a couple more wins, a couple of plays away, but most people can say that."
He credited his relationship with the Kentucky fanbase as a key reason for staying the course in Lexington rather than exploring other jobs over the years.
"I think it just says a lot about the fanbase and the people and the way the coach and people treat each other," Stoops added. "I think there's a lot to be said about that and I can relate to it because I feel like I have a great relationship with the fans here. That doesn't mean they're not upset and pissed when you lose and want more; that's part of it. We all want that and we want high expectations so I think it's important to have a good relationship with people. 
"That's part of the reason why I've been here for nine years, because I feel that's a good relationship."
Stoops is now in his ninth season in Lexington, where he has racked up 56 total wins and reached bowl eligibility six consecutive seasons.
Will his time continue at Kentucky?