LSU will reportedly hire Notre Dame's Brian Kelly as head coach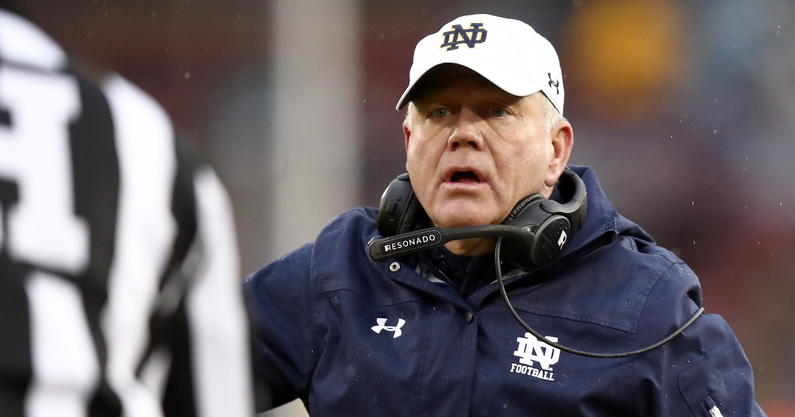 Mark Stoops will not be the next head coach at LSU. Instead, Brian Kelly is expected to leave Notre Dame and head to Baton Rouge.
According to a report by Yahoo Sports' Pete Thamel, LSU is expecting to hire Kelly as its next head coach, with an announcement coming as early as tomorrow.
The Athletic reported earlier Monday afternoon that LSU was set to make an "aggressive push" to hire Kelly as its next head coach. Now just hours later, it appears that push was enough to bring Notre Dame's all-time winningest coach to Baton Rouge.
Kelly first arrived in South Bend in 2010, leading the Fighting Irish to 263 career wins, which is good for third-most among active FBS coaches. He previously spent time at Cincinnati (2006-09) and Central Michigan (2004-06).
The 60-year-old coach is a two-time AP Coach of the Year (2012, 2018) and has won six bowl games in 11 appearances.
Stoops was seen as a potential candidate to replace Ed Orgeron at LSU in recent weeks, with Oklahoma emerging as a possible landing spot over the last 24 hours, as well. Now, it appears the Tigers are going in a different direction, securing a deal with Kelly.
One step closer to a new deal for Stoops being announced at Kentucky.