Luke Doty, Will Levis are looking to solve quarterback problems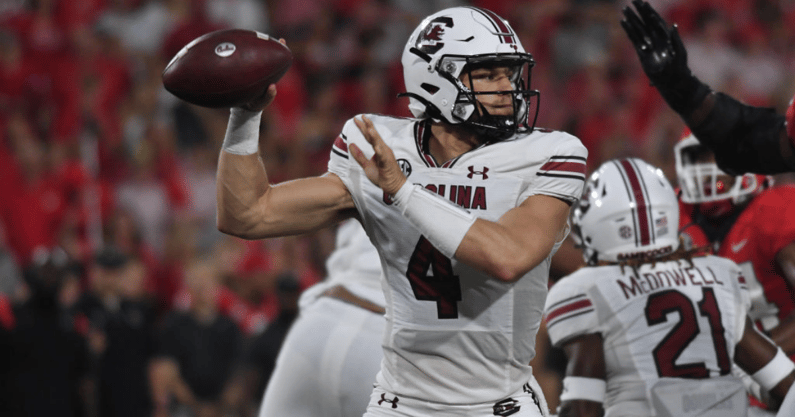 Kentucky and South Carolina have had similar issues in recent years. It caused Will Muschamp to lose his job in the middle of year five and for Mark Stoops to make another change at offensive coordinator.
Both the Gamecocks and Wildcats needed to find answers at quarterback.
Heading into 2021, Luke Doty and Will Levis won the quarterback jobs at each SEC East program early on in fall camp. Both players entered the season with high expectations and were critical to the success of Kentucky and South Carolina.
To this point, each has taken different steps as the college football season has reached Week 4.
Luke Doty's unfortunate injury
Luke Doty suffered a foot injury in the middle of fall camp that caused the sophomore to miss preparation time. Due to this, South Carolina had to pull graduate assistant Zeb Noland out of retirement and ask him to play quarterback in the SEC. The former Iowa State and North Dakota State signal-caller started the first three games and performed admirably (8.3 yards per attempt, 10.4% touchdown rate). However, the veteran was knocked out of the Georgia game with a hand injury.
Luke Doty stepped in and had some struggles against the top defense in college football. The quarterback lost a fumble, took a safety, and threw an interception while completing just 50 percent of his passes. This was fresh off a rookie campaign where the Myrtle Beach (S.C.) High product averaged just 5.7 yards per attempt in eight games with two starts.
However, Doty is a dual-threat quarterback with the arm strength to challenge defenses vertically. This week will be the sophomore's first full week of practice since hurting his foot back in fall camp.
"Really impressed with Luke," Kentucky head coach Mark Stoops said on Wednesday. "It's my understanding that he hadn't had quite a few live team reps prior to last week or maybe even late in the week last week and to see him step in there against such a good talented defense on the road. He really stepped into it and made some really tough throws and you can see why they were so high on him coming into the year. It's unfortunate that he had an injury but he looks back to full strength to me and was very impressive. You can tell he's a strong guy. He can run the ball when necessary and really make some tough throws as he did against an extremely talented defense in Georgia."
South Carolina is hopeful that the Georgia defense had much to do with last week. Doty's 19.23 percent passing success rate number in the game will need to take a major jump up. Meanwhile, the Gamecocks should be hopeful that his rushing ability will be an added element for defenses to defend.
A lot is riding on this former blue-chipper early in the Shane Beamer era.
The Gamecocks need their quarterback to be good to take pressure off of an offensive line that is struggling. There has simply not been enough running room for Carolina's talented running back unit. The Gamecocks are averaging 4.57 yards per rush from their four tailbacks but have just 12 attempts that have gone for over 10 yards. There is no pop from this ground game, and the efficiency is hit or miss.
This isn't a backup quarterback situation. Luke Doty is the clear QB1 for South Carolina and the Gamecocks need him to perform. Without an effective and efficient passing game, this offense is going to struggle to create traction in the SEC.
Kentucky offense creates significant issues
While there are still some unknowns about how Luke Doty will be fully utilized by new offensive coordinator Marcus Satterfield, there is more game tape and data on Penn State transfer Will Levis.
The redshirt junior quarterback has looked to be the real deal through three starts at Kentucky. Levis has one of the SEC's top passing success rates (54.43%), ranks 10th nationally in yards per attempt (10.1), and is ninth nationally in 30-plus yards pass plays (8) despite throwing the ball just 26.33 times per game.
His ability to stretch the field and accurately deliver vertical passes in Liam Coen's offense has changed the dynamic on how teams have to defend Kentucky.
"The quarterback [Will Levis] is playing for them is playing at a really high level," said South Carolina head coach Shane Beamer on Tuesday. "Really impressive player, he is. He's got size, he can run. He throws one of the more impressive deep balls that I've ever seen. I think they're second in the country, if I'm not mistaken, in explosive pass plays so they are a big-play offense.
"There's no throw on the field this quarterback can't make. We've been pretty good, a lot better — knock on wood — with not giving up explosive pass plays. We've got to be really good this week because we've got a huge challenge."
That challenge is made difficult due to Kentucky's ability to establish the run. The Wildcats have one of the best offensive lines in college football, and redshirt junior Chris Rodriguez Jr. leads the SEC in rushing with 342 yards and three touchdowns on a 50.85 percent success rate.
However, the legs of Levis are something South Carolina must be aware of on Saturday.
"In our practices, Luke and our quarterbacks are wearing a jersey meaning they can't get tackled — like I'm sure most schools do. Luke is fast and not running. Will is 6-foot-3, 232 pounds is what they list him as. He's built like a H-back.
Last week against Chattanooga, the Mocs gave Kentucky a lot of two-high safety looks that they would often roll into quarters coverage — four deep zone coverage — to eliminate big passing plays. The Wildcats played right into their hands by coming out pass-heavy.
Football is a copycat game, so expect some similar looks from South Carolina on Saturday. The kryptonite to this defense is the running game. However, South Carolina might have a defensive front good enough to have some success. The quarterback run game could be the ultimate trump card for Kentucky.
Levis has produced a 58.33 percent success rate on 12 rushes this season with each successful rush either moving the chains or resulting in a touchdown. If teams are going to play deep zone coverage, adding the extra blocker and running the quarterback could be almost impossible to stop.
As long as Kentucky can protect the football, this is an offense that can create issues for every defense on the schedule thanks to Levis' ability to stretch the field vertically.
The redshirt junior addition from the transfer portal has been a gamechanger for Kentucky through three games. Opponents are starting to recognize that.