Lynn Bowden wants to play more than you want him to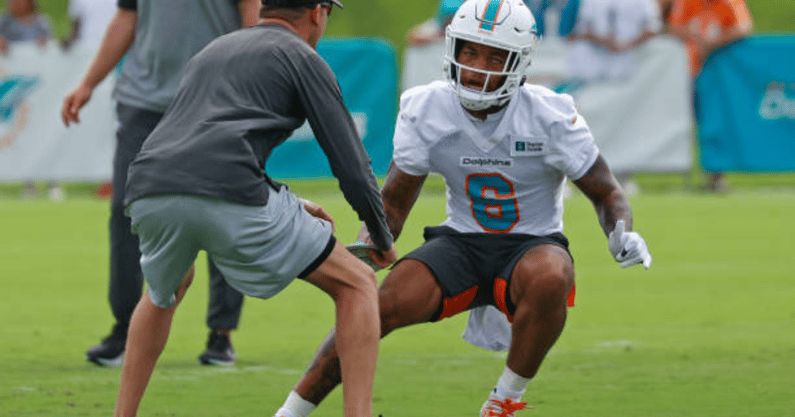 "Have you ever made a million dollars with your talent? Have you?"
As so eloquently put by North Philly's own Lil Uzi Vert oh so long ago, people care about the money and what you make. Some more than others. If we've learned anything about Lynn Bowden during his days in Lexington and his short experience as a neophyte in the league, this doesn't matter to him.
It's not about the money for Bowden
Anyone who's played ball before understands the love for the game and the mentality needed in order to enter a metaphorical war for hours. Yeah, the financial compensation once you reach the league doesn't hurt at all. That's not what matters to the ultra-competitive though, and Bowden exemplifies that mentality. We already learned that when he started fighting players an hour before a bowl game, only to go rush for 233 yards and a couple of touchdowns.
No matter how the media ran with that initially, that was everything you want to see out of a player and a competitor. Do you really want them throwing hands in pregame? Not particularly, but that's what every player wants in a teammate. Bowden was down to ride with whoever was with him, and you need that type of personality in a locker room. It'll be a while until we see him on the field again, but it's a wait we all should be anticipating.
Unforgiving start to a career for Bowden
Despite being hailed for the heroic performance his last season in Lexington, which ultimately ended up with him winning the Paul Horning award, there were still major questions about Lynn Bowden coming into the NFL.
For starters, nobody really knew what position he would play at the next level. He came in as a receiver and had multiple years of production at the wideout spot, but his masterful performances came when he was a quasi running back who was taking snaps behind center. He was extraordinary in open space, but NFL teams would have to figure out how to get him the ball.
Then there was the subset of NFL personnel and reporters who wanted to attack Lynn Bowden as a person. What we all saw as genuine passion and loyalty to whoever was in his corner, the media portrayed a loose cannon who would struggle to adapt to living a professional lifestyle. Ergo, the media making a huge deal out of a DEA raid last summer that Bowden was present at, but never arrested for. He was then shipped from the Raiders over to the Dolphins in the first month of his inaugural season with fears that he might influence Henry Ruggs negatively, which is an absurd claim to make.
Making it in Miami
As we're now learning about the Las Vegas franchise and who they employ, getting out of Sin City was probably the best thing that could've happened to Bowden. He got the legit chance to play and try to make an impact with a quarterback who was supposedly going to be one of the elites in this league.
In a short sample size, Lynn Bowden didn't exactly wow anyone as he did in college, but the flashes were evidently there of what he could potentially bring. Only playing in five games last season, Bowden ended up with 211 yards on 37 targets. In the season finale, he ended up with eight catches on 12 targets.
Things were looking vastly different for Lynn Bowden coming into year two. He had familiarity with the team and a rapport with Tua Tagovailoa. He just so happened to also have a faulty hamstring. After injuring his hammy during a training camp practice in the waning days of August, Bowden was put on IR and his season was just over.
It appears that his future in the NFL is at a crossroads, missing his second season due to injury while also already being on his second team. Anyone who has followed him throughout his career knows that this should only be another hurdle that he conquers once again. He loves his football and the BBN, and that's enough for us to root for him for life.