Lyon County star Travis Perry receives scholarship offer from Kentucky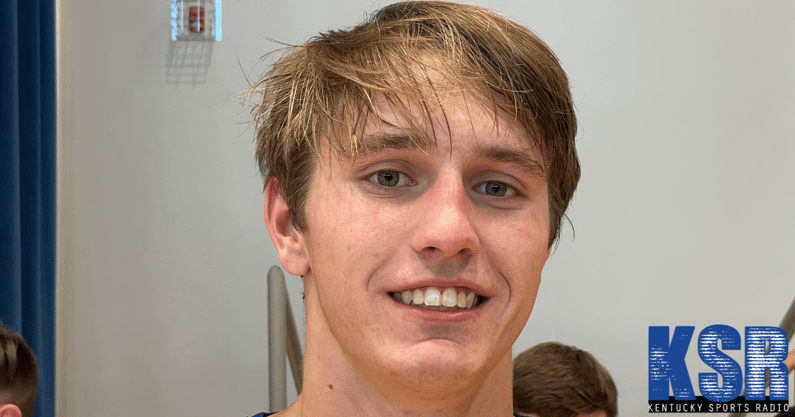 2024 four-star prospect Travis Perry has received an offer from the University of Kentucky.
Following an unofficial visit to Lexington this weekend, the Lyon County standout picked up a scholarship from John Calipari and the UK coaching staff. The 6-foot-2 point guard announced the news Saturday afternoon.
"After a great visit and conversation with Coach Calipari, I'm thankful to have received a basketball scholarship offer from the University of Kentucky," Perry announced. "Thank you to the coaches for believing in me."
Contact with Kentucky ramped up following a standout performance at the Titans-Rockets Shootout in Shelbyville, KY last weekend. Calipari and the UK staff reached out to express interest, with an unofficial visit scheduled shortly after.
"Travis played pretty well on Saturday and Sunday both, but luckily Coach Cal was there for the Sunday game and got to watch him play," Perry's father, Ryan, told KSR. "I think it was the first time Coach Cal has gotten to see him play. Travis had a good afternoon and played well, then we got some contact from the Kentucky coaching staff, they got our contact information, that kind of stuff. We just got in touch, had a telephone call about our whole high school team, how we play, all that kind of stuff. Then we talked about Travis — I think the staff that was there thought Travis played pretty well. We got some interest that way, so we're gonna go up, talk to them, take a look at campus. This (past) weekend is kind of when it all went down."
That look around campus resulted in a scholarship offer from the UK coaching staff.
Perry is one of just 37 players in Kentucky high school history to score 3,000 points in a career — and he's done so before entering his junior year. He's just 1,149 points away from breaking King Kelly Coleman's all-time record of 4,337 points in a career (Wayland, 1953-56). He has earned scholarship offers from Iowa, Missouri, Nebraska, Ole Miss, Purdue and Wake Forest, among others.
Now, Kentucky has thrown its hat into the ring for the in-state standout.
"Travis has had success and we're really glad with the success he's had," Perry told KSR. "He's worked so hard to continue to get better and to continue to perform in situations that are important. He almost didn't play this weekend. On Friday, we had open gym, and he couldn't move laterally at all. We were trying to decide (on him playing), but coaches were getting on planes to leave and head this way. He told me he's going to play, so he ended up playing. It worked out really well because he was able to move well and play well. He's performed in those situations and it's gotten kind of bigger every year. That's the way it goes with the progression of being recruited. We want the absolute best for Travis, the biggest Travis wants.
"He's a pretty cerebral kid, he thinks about all of his moves before he makes them. When you watch him play, you don't see him have emotions hardly ever. He'll knock down a jump shot at the buzzer to win the game, he's got the same emotion he had at the beginning of the game in the layup line. But it is special when you've got big schools recruiting your kid, so it is important and it kind of validates how hard he's worked."
After proving himself in front of the Kentucky coaching staff, the four-star prospect has now earned his first blue blood scholarship offer.
Perry is the fifth player in the class of 2024 to receive a scholarship offer from Kentucky, joining Ian Jackson, Tre Johnson, Isaiah Elohim and Karter Knox.