Mackenzie Mgbako updates recruitment, talks relationship with Kentucky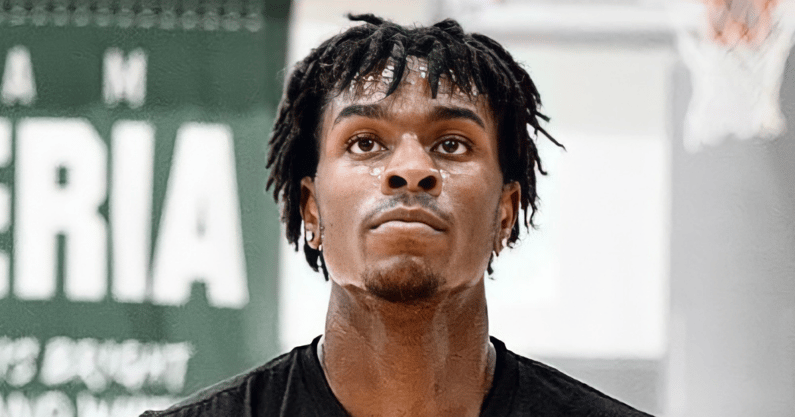 Mackenzie Mgbako is one of a handful of highly-rated wings that Kentucky head coach John Calipari is targeting from the class of 2023, but he might be the biggest prize of them all. Over the weekend, Mgbako and his Gil St. Bernard squad played two games at the HoopHall Classic in Springfield, MA.
KSR had the chance to catch up with him on Sunday after his second game of the event.
Clocking in at 6-foot-8 and weighing around 200 pounds, Mgbako is ranked as the No. 4 overall high school junior in the country, according to the On3 Consensus. He was one of the first from his class to receive an offer from Calipari and the Wildcats, picking up a scholarship back in September. A month later, Mgbako joined fellow 2023 UK target DJ Wagner and 2023 UK commit Reed Sheppard down in Lexington for an official visit to attend Big Blue Madness.
Since then, the relationship has remained steady between Mgbako and Kentucky.
"It's a great relationship," Mgbako told KSR on Sunday. "I was talking with Coach Calipari today, he said he couldn't make it because of the weather. Talk to Coach (Orlando) Antigua as well."
Mgbako was impressed with his visit to Rupp Arena back in the fall, particularly the atmosphere and the fan environment. He enjoyed spending time with Wagner, who is his current AAU teammate, and Sheppard.
"It was just amazing. Big Blue (Madness), we just enjoyed ourselves and had a good time," Mgbako said. "…It was ridiculous. It's a huge arena so there's always fans coming to support and then everybody in Kentucky is about basketball."
Kentucky is hardly the only school after Mgbako though. Duke is considered the early frontrunner, although he was adamant that his recruitment is wide open. Mgbako said he is hearing from Gonzaga, Michigan, Rutgers, Xavier, and Ohio, as well.
The G League and Overtime Elite professional routes have also reached out, but Mgbako says he turned them down and intends to play in college. He added that he'll likely name his top schools during the AAU season before making a final decision once his senior year begins.
Why Kentucky stands out
The appeal of Kentucky for Mgbako is how the 'Cats run its offense. He prefers to run in transition and put the ball on the floor, two areas that UK has thrived at so far in the 2021-22 season.
"The way they push the ball in transition, everything is off the dribble, I like that," Mgabko said.
Offensively, Mgbako has plenty of tools in his box. With his combination of NBA-ready size and a smooth jump shot, he can score from almost anywhere on the floor.
"Most definitely shooting 3s, that's a strong point," Mgbako said. "Getting to the rim, drawing fouls, and then the pull-up, working on shots off the dribble, and then blocking shots and defending."
On defense, he's just as intimidating. During his second outing at the HoopHall Classic on Sunday, Mgbako took on the challenge of defending 7-foot-2 Duke commit Dereck Lively II, holding him to just five points on 2-8 shooting. Mgbako's size makes him incredibly versatile on that end of the floor.
"I can go one through four, I can guard bigs, guarded Dereck (Lively II) today, did really well. I can guard guards as well," Mgbako added.
It was a tale of two days for Mgbako, performance-wise. His first outing on Saturday was admittedly a struggle. He finished with five points on 2-10 shooting before eventually fouling out in a loss. But on Sunday, matched up against Lively–the No. 1 player in the class of 2022–Mgbako bounced back in impressive fashion.
He posted 18 points, 11 rebounds, five assists, one block, one steal, and just one turnover in a 70-60 win over Westtown. That version of Mgbako, the one who makes his presence felt all across the court, is the one Kentucky is fascinated by.