Madness Campout's Wednesday Morning Wakeup
The Big Blue Nation is one of the most unique fan bases in sports, and events like this morning's are why. At 5 a.m., hundreds of fans made the mad dash across Avenue of Champions to stake out spots around Memorial Coliseum to camp out for tickets to a practice. Yes, we talkin' bout practice. Kentucky's Big Blue Madness Campout has become such an iconic event that it represents the school in the latest SEC Network "It Just Means More" commercial, which aired during Saturday's game vs. South Carolina: I was a little worried that this year's event might not be as good as years past when UK handed down new restrictions on where fans could and could not camp, but I was happy to see the same passion and excitement in the videos and pictures that came out this morning: https://youtu.be/N_KBzUY2eKk Drew Franklin was on the scene bright and early this morning, so scroll down for more pictures and videos from the scene. If you're at Tent City reading this post on your phone, check out our new Snapchat filter and send us your pictures on Twitter using the hashtag #TentCityKSR. We'll share pictures throughout the day, along with the following news...
CoachCal.com released a new practice report last night
Sensing the BBN's thirst for all things roundball, CoachCal.com's Metz Camfield treated us to a practice report last night. You can read the entire thing by
clicking here
, but here are the things that stuck out to me:
Bam Adebayo seems to be back at full speed, and Metz said both he and Isaac Humphries are benefitting from their battles in practice.
Malik Monk is so good in transition that all Calipari can do is laugh. One of the few players that can stop Monk? Dominique Hawkins, who is finally healthy again.
This line should make everyone happy: "Derek Willis looks as comfortable on the court as I have seen him."
For more, go to
CoachCal.com
.
Mikel Horton is transferring
After being stuck behind Boom Williams, JoJo Kemp, and, most notably, Benny Snell on the depth chart, the junior running back is looking to go elsewhere, sources told KSR last night. Anyone who's watched Horton on the sidelines this season has noticed his frustration, so the move does not come as a surprise. While unfortunate, losing your job or being recruited over is just a part of football. As Freddie would say, it's not personal, it's personnel. Best of luck to Mikel going forward.
Mark Stoops will be on the SEC Teleconference
Check the site after lunch for Stoops' comments from the weekly teleconference, which will be the first in over ten years without Les Miles. As someone who tunes in occasionally to LSU's slot just to listen to Les' stories, that genuinely makes me sad. With no Spurrier and no Les, there's no reason at all to listen to anyone other than Stoops.
I finally finished "The Get Down"
It took me a while to get into "The Get Down," Netflix's most expensive series to date, but once I did, I was hooked. Baz Luhrman's musical drama about the origins of hip-hop in the 1970's isn't for everyone -- it's not as glittery as "Moulin Rouge," but definitely still BAZ!! -- but it got better with each episode. Yesterday, rumors circulated that it was canceled, but thankfully, they were false. Part two of season one drops next year.
The Sacramento Cats -- err, Kings -- are looking good
[caption id="" align="alignnone" width="1024"]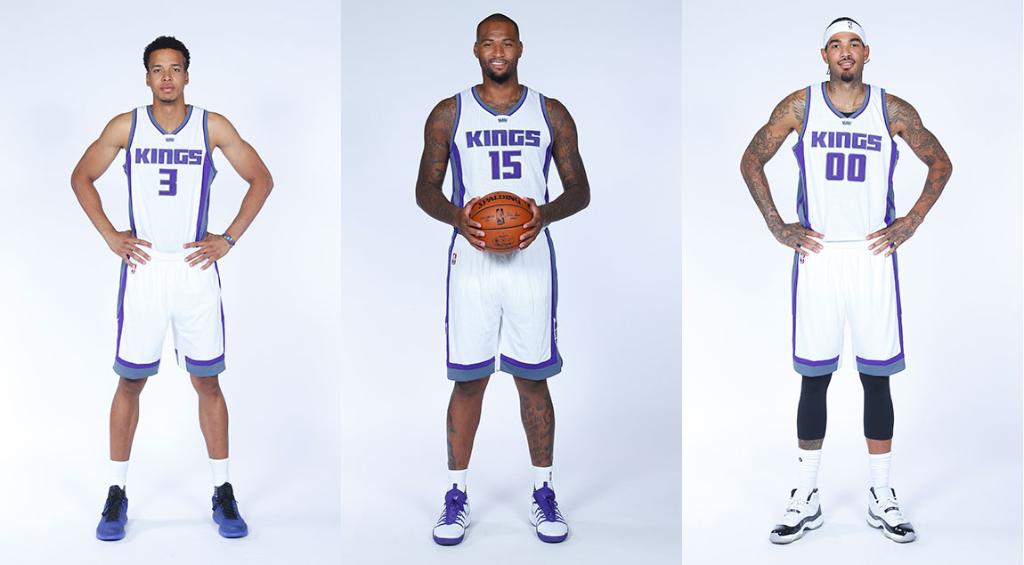 @SacramentoKings
[/caption] Skal Labissiere, DeMarcus Cousins, and Willie Cauley-Stein showed off the team's new jerseys on Monday. I can't help but notice that Skal's bulked up a little up top, Boogie still looks skinny, and Willie, well, Willie's become a human canvas, which is awesome and oh-so-appropriate.
Did you see last night's "Hey Kentucky!"?
If not,
click here
to check out Matt and Mary Jo Perino. We're still having some issues with the video (apparently it quits halfway through), so bear with us as we get Matt's baby off the ground.
KSR is in an hour...
Get some work done while you can.