Malik Monk set for big pay raise in free agency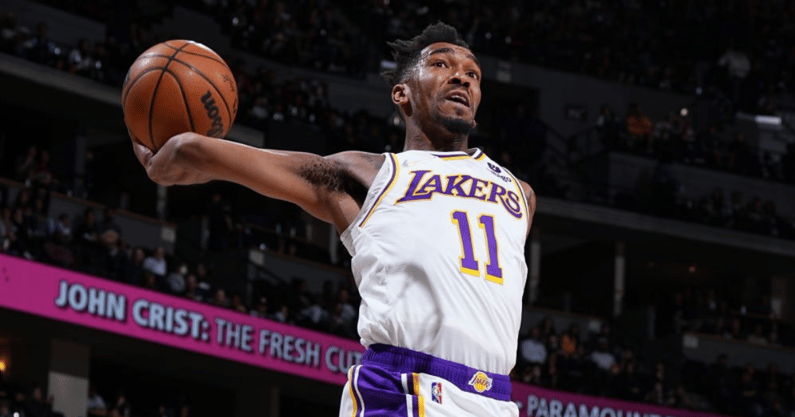 Malik Monk was the biggest surprise of a disappointing season for the Los Angeles Lakers. The team missed the playoffs at 33-49, but Monk had his best season as a pro as a natural fit next to LeBron James. He averaged career-highs across the board including 13.8 points per game in 76 contests for the purple & gold. After hanging on to his chance in the NBA, his success has earned him a shot at a big payday this summer.
Since Monk's season ended, reports have come out that his services will be in high demand in free agency. The Lakers may not be able to retain him for next season at the rumored rate. Early reports suggest Monk could command a deal worth $5-10 million per year. In comparison, Monk's contract this season was the league minimum at one year for a little under $1.8 million.
The best the Lakers can offer Monk for next season is $6.2 million. They would do so in hopes that they could interest him in a bigger deal in 2022-23. After a breakout season, though, Monk may not elect to wait and capitalize on his chance at more money now.
In his exit interview, Monk spoke about his focus on just wanting to find a place where he's comfortable.
"It's really me being comfortable and feeling at home, whether that's here or somewhere else," Monk said. "The money matters but I know what I can do on the court and I can go out there and earn that. I think I proved that."
Even though things didn't work out for the entire organization, Monk expressed a ton of appreciation to the franchise that gave him the chance to be in the positions he's in now.
"Rob (Pelinka) and Frank (Vogel) were the first people that called me as soon as free agency hit. I thank those guys for that. This was the only organization that called me and gave me a chance to prove that I'm a basketball player that deserves to be in the NBA," said Monk. "I love playing here under this atmosphere and of course would love to come back."
Monk was a key part of this Lakers roster. He was their leader in 3-pointers, second in total minutes and third in total points. Losing his production would be another massive hit to Hollywood's premier team. After nearly being out of the NBA a year ago, though, Monk has earned his chance to cash in this summer.