Mark Stoops named to another Coach of the Year watch list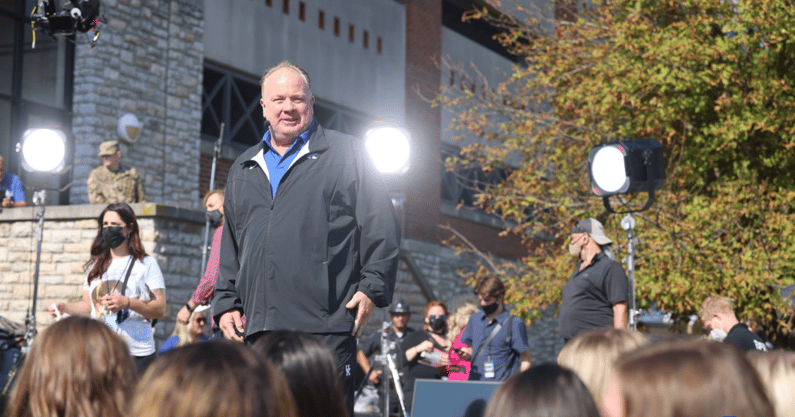 Kentucky is off to a 6-1 start in 2021, and folks around the country are beginning to recognize the job Mark Stoops has done in Lexington.
The ninth-year head coach is 43-27 since 2016 with a 24-23 record in SEC play. Stoops has Kentucky in a position to have a historic season with a potential luxurious postseason trip come late December or early January.
Stoops is setting new records at Kentucky. Now the recognition is starting to roll in.
The 54-year-old coach with a defensive background was named to a Coach of the Year watch list by the Dodd Trophy last week. Now Stoops finds himself on another watch list brought to you by the Paul "Bear" Bryant Coach of the Year award.
Announced by the American Heart Association, Bryant's family presents this award yearly to celebrate Bear Bryant's legacy and raise awareness for cardiovascular disease and stroke.
There could be a Kentucky reunion happening this winter.
Mark Stoops is chasing down the record set by Bear Bryant at Kentucky with 60 career wins. The current Kentucky football head coach is just six wins away from surpassing one of the best coaches in college football history. That figures to happen soon.
Beginning with Saturday's road trip to Mississippi State, the Wildcats seem to have an excellent chance at winning out and finishing the season with at least 10 wins and a very high ranking in the AP Poll. Kentucky could be a betting favorite in each remaining game on the schedule.
As long as the wins keep rolling in, the honors will follow for this Kentucky football team. Now the Wildcats need to finish this season strong. Getting a win in Starkville for the first time since 2008 would help get the ball rolling in the right direction after the bye week.