ESPN: Mark Stoops, Brad White's stock rising as more jobs open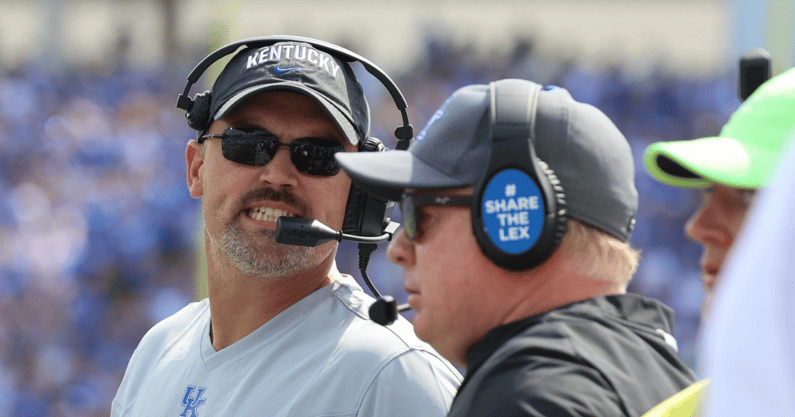 It's a tale as old as time: team finds success, other, more high-profile team tries to take their coach away. Kentucky is 6-1 and the coaching carousel is starting to turn; so, naturally, Mark Stoops and Brad White are being mentioned more and more in articles like the one I'm about to share. This morning, ESPN's Adam Rittenberg put Stoops atop his list of Power 5 head coaches whose stock is on the rise. White is listed under FBS coordinators on the rise.
LSU is the biggest job opening in college football right now. Rittenberg doesn't believe the Tigers will heavily pursue Stoops but says Penn State could be a different story if James Franklin leaves.
"Although Stoops had gained respect within coaching and administrative circles for the success and stability he brought to Kentucky, he had won more than seven games just twice in the previous eight seasons. The Wildcats still have a chance for their second 10-win season in the past four. Stoops (55-51 overall at Kentucky) might not be an A-list candidate for LSU, but he would be a good choice there. He might make even more sense at Penn State if James Franklin departs for another job."
White is in his fourth season at Kentucky, third as defensive coordinator. He came to Lexington after six years with the Indianapolis Colts. Rittenberg could see White turning his success at Kentucky into a head college coaching job or coordinator job at the NFL.
"White and Stoops have built Kentucky into one of the more respected defenses in the SEC. The Wildcats allow fewer than 20 points per game and are solid against the run. White, who came to Kentucky from the Indianapolis Colts, has developed All-American Josh Allen, Jamar "Boogie" Watson and other standouts, such as current defensive end Joshua Paschal. He could soon be in the mix for FBS head-coaching jobs or NFL coordinator positions."
You could argue Liam Coen should be on this list as well. Open up that checkbook, Mitch!