Kentucky Got It Right With Mark Stoops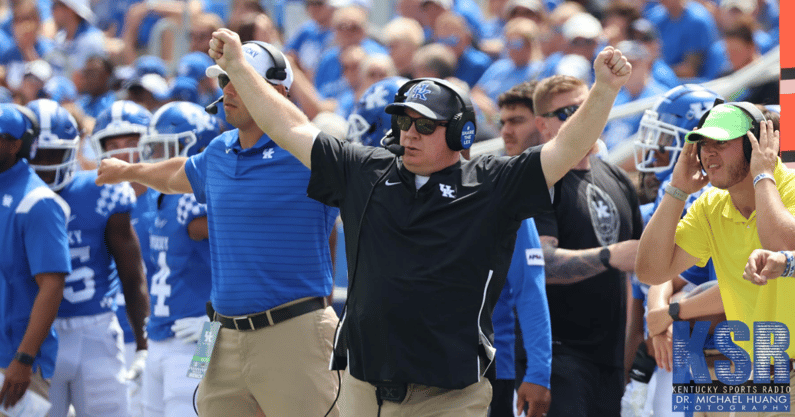 The University of Kentucky announced that Mark Stoops will remain as the Wildcats' head coach through 2028. Athletics Director Mitch Barnhart deserves a great deal of credit for securing his coach for the foreseeable future. By doing so, Barnhart solidified the university's long-term commitment to modern-day football in an ever-changing, financial environment. 
As I like to write in my Sunday AAR article, let's get to the BLUF (Bottom-Line-Up-Front). Mark Stoops was going to receive a multimillion-dollar raise at Kentucky or elsewhere. Barnhart nailed this deal and kept his coveted guy. He had no other choice. Stoops appears to love his Ole Kentucky Home and has become one of, if not the most popular figure in the Bluegrass. The Kentucky head coach frequently talks about his Youngstown, Ohio roots. But he's now as Kentucky as bourbon. Stoops and Kentucky just fit. 
Mark Stoops ranks second in all-time wins and should surpass Bear Bryant in 2022. Urban legend depicts a story that Bear left Lexington over a cigarette lighter and overwhelming disrespect after Adolph Rupp was given a Cadillac. In Stoops' case, he will likely get the indoor facility that he's long desired as well as a financial increase in the recruiting budget and other items that shall be named later. 
The Golden Age of Kentucky Football
I've been around or followed Kentucky Football since the seventies. I can remember getting Derrick Ramsey's autograph on his walk into Commonwealth Stadium before the advent of the Cat Walk. So, I can say without hesitation that today is the golden age of the program and it's really not close. Not in my lifetime. Football popularity is at its pinnacle at the collegiate and high school levels. I often tweet "Football state," which draws fire from basketball traditionalists. But, after traveling the state covering high school football on a weekly basis, I can objectively say that it's true. The Commonwealth has craved football legitimacy. Mark Stoops provided just that. 
The Big Blue Nation is now at the point where an eight-win season is viewed as a disappointment. I can remember quarterbacking a 6-5 team that wasn't selected to play in a bowl game and we were viewed as a success. Things have changed in Lexington. Mark Stoops deserves credit for that. So does Vince Marrow. 
The Wildcats have won three consecutive bowl games and are 46-29 over the past six seasons. Recruiting has gone to new heights under Vince Marrow and the talented collection of assistants that are "Recruiting and Developing" at an extremely high level. Barriers such as beating Florida and Tennessee have been kicked down. The past three Governor's Cups were glorified scrimmages. The state of the program is sound, promising, and ascending. For the first time in my life, I can't precisely predict what the ceiling is for the Cats. Think about that for a minute. 
A Pivotal Moment for the Program
I walk a thin line between former player, fan, and media. I've never proclaimed to be a journalist. Heck, you probably haven't thought of me that way either. But, personally, I'm ecstatic knowing that Mark Stoops will be the Kentucky head coach for the next seven or so years. But I would warn you that in today's win-at-all-costs world of college football, suiters will not be deterred by a signed document. Thus, I appreciate every day, game, and season. 
I'm also happy for the Big Blue Nation. Seeing fans happy makes me happy. Bowl games have now become the norm and an annual family trip with the only question being whether fans will be wearing swimsuits or sweaters. It hasn't always been this way you know. Seeing the blue-clad faithful in Cardinal Stadium celebrating yet another beat down of the Cardinals was fun. The same can be said of the field chargers after Florida and the packed house crew when the Cats whipped up on LSU. This is fun. But, I've been around long enough to know that it could have turned on a dime if UK and Stoops hadn't signed the new deal.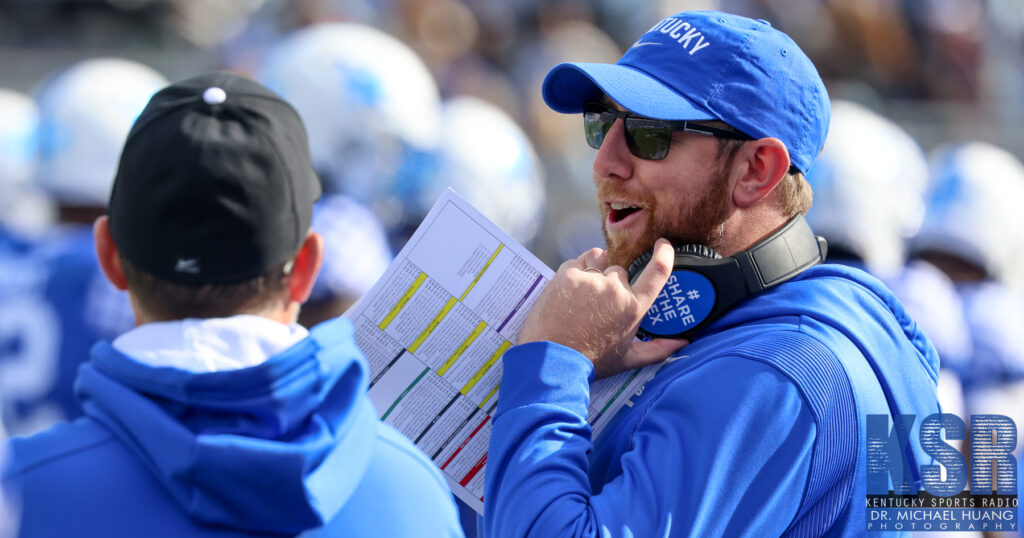 The Right Staff In Place
While Stoops is the focus, he's also put together an outstanding staff. His willingness to change offensive philosophy resulted in the first season in program history that the Cats rushed and passed for 200 yards per game. Liam Coen provided the balance that was sought after and averaged over 500 yards per game in November. Quarterback Will Levis has embraced being the starting quarterback for the University of Kentucky. The vastly popular signal-caller is flourishing under Coen's tutelage and is poised for a promising 2022. 
Brad White is a stud. I've said that for three years now. His defenses have been ranked in the SEC's top five for three consecutive seasons. 2021 saw mixed results after devastating front-seven injuries and personnel shortages at cornerback. But, looking at the season in a 12-game context, White's defense again ranked as one of the league's best. Jon Sumrall has been alongside White. Both are talented young coaches with extremely bright futures. 
Kentucky got it right with Mark Stoops from the start. The hire wasn't sexy. But the results have been resounding. Mitch Barnhart deserves a great deal of praise for hiring a defensive coordinator with a vision for recruiting Ohio and winning football games along the line of scrimmage. Again, I've been around for a while. That hasn't been done on a consistent basis. The AD also got it right by securing his head coach in a world where poaching is more and more common. Remember the cigarette lighter and Cadillac and the years of suffering that followed? Kentucky is in a good spot as the league expands and brings enormous financial gain with it. 
Mark Stoops has cultivated a specific culture in Lexington. His teams are a reflection of himself. The Wildcats have won games by playing bully ball offensively and with an opportunistic defense. Times have changed. With Coen, the Cats' offense is now dynamic and explosive; however, being physical is Stoops' first priority on both sides of the football. That will never change. Hopefully, the leader of the Kentucky Football program won't either. 
Football state.