Mark Stoops on Dodd Trophy Midseason Watch List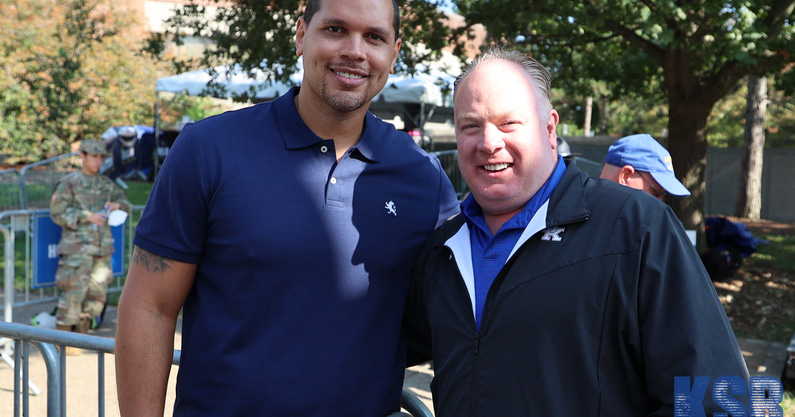 Mark Stoops is one of the best coaches in all of college football. It is known. Now others are starting to notice.
After propelling Kentucky to its first 6-0 start since 1950, Stoops is one of 16 coaches on the midseason watch list for the Dodd Trophy, a coach of the year award given every year by Peach Bowl Inc.
The Dodd Trophy, college football's most coveted coaching award, celebrates the head coach of a team who enjoys success on the gridiron, while also stressing the importance of scholarship, leadership and integrity – the three pillars of legendary coach Bobby Dodd's philosophy. The midseason watch list was created through a selection process by the Bobby Dodd Coach of the Year Foundation and Peach Bowl, Inc., taking into consideration each program's current performance during the 2021 season, Academic Progress Rate (APR), and each coach's commitment to service and charity in the community.
It's not the only recognition Stoops have received halfway through the 2021 season. The Associated Press picked Stoops as the SEC's Midseason Coach of the First Half.
Dodd Trophy Watch List
| | | | | |
| --- | --- | --- | --- | --- |
| Coach: | School: | Current AP Ranking: | Current Record | APR Score: |
| Jamey Chadwell | Coastal Carolina (Sun Belt) | No. 14 | 6-1 | 956 |
| Dave Clawson | Wake Forest (ACC) | No. 16 | 6-0 | 990 |
| Mario Cristobal | Oregon (Pac-12) | No. 10 | 5-1 | 968 |
| Ryan Day | Ohio State (Big Ten) | No. 5 | 5-1 | 985 |
| Dave Doeren | NC State (ACC) | No. 18 | 5-1 | 962 |
| Kirk Ferentz | Iowa (Big Ten) | No. 11 | 6-1 | 971 |
| Luke Fickell | Cincinnati (American) | No. 2 | 6-0 | 990 |
| Jimbo Fisher | Texas A&M (SEC) | No. 17 | 5-2 | 965 |
| James Franklin | Penn State (Big Ten) | No. 7 | 5-1 | 982 |
| Jim Harbaugh | Michigan (Big Ten) | No. 6 | 6-0 | 980 |
| Brian Kelly | Notre Dame (Independent) | No. 13 | 5-1 | 970 |
| Lincoln Riley | Oklahoma (Big 12) | No. 3 | 7-0 | 965 |
| Nick Saban | Alabama (SEC) | No. 4 | 6-1 | 990 |
| Kirby Smart | Georgia (SEC) | No. 1 | 7-0 | 969 |
| Mark Stoops | Kentucky (SEC) | No. 15 | 6-1 | 971 |
| Mel Tucker | Michigan State (Big Ten) | No. 9 | 7-0 | 952 |