Mark Stoops doesn't deny Axl Rose resemblance, other notes from KSR appearance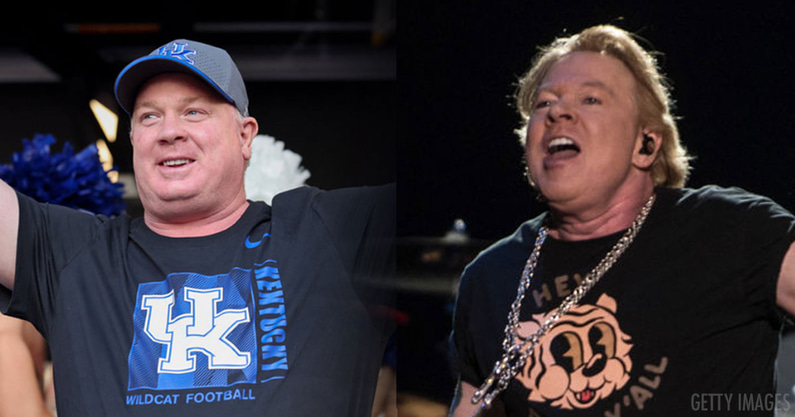 Mark Stoops will take the podium at Media Day at 1 p.m., but first, he sat down with the Kentucky Sports Radio crew to talk about his team and give Max Duffy some grief. You're going to hear A LOT from Stoops today, so let's kick things off with the highlights of his KSR appearance.
"By far the best first practice" in 10 years
Kentucky held its first practice of fall camp this morning, and Stoops said it was the best first day by far of his ten-year tenure in Lexington.
"Really, really good practice. I told the guys afterward, I've been here 10 years, believe it or not. And that's by far the best first practice. But that's one. Yeah, we have so much work to do. It's crazy."
Stoops said his team should be further along than past squads thanks to the NCAA easing rules surrounding summer workouts. More than anything, he's happy to be back on the practice field.
"Without a doubt it feels so good to be back out there," Stoops said. "When you get out on that practice field, that's doing what you love to do, and you feel much more at peace."
Doesn't deny resemblance to Axl Rose
Last night, Shannon the Dude tweeted a picture of Axl Rose in which the Guns N' Roses head man looks eerily similar to Mark Stoops. The tweet is gaining traction in the college sports world today, and when asked, Stoops didn't deny the resemblance.
"You know what, I did see that. I kind of — I can't deny that. I actually can't deny it. I can jam it out a little bit. That's a side gig."
He called Max Duffy "Butt Wipe"
Stoops and Max Duffy's friendship is one of my favorite side stories to come out of the program in recent years. Stoops and the former Kentucky punter regularly go at each other on social media, with Stoops recently getting the best of Duffy in a back-and-forth about his SEC Media Days photo.
"I gave you a compliment the other day on Twitter and you fired back at me," Duffy said on today's show. "I said for an 85-year-old coach, you look great–"
"I'm not 85, you butt wipe!" Stoops exclaimed.
These two need their own sitcom.
"The most talented receiving corps we've had since I've been here"
Yesterday, Will Levis and Tayvion Robinson raved about Kentucky's wide receiving room. Stoops backed up the praise today, calling it the most talented group of receivers he's had during his tenure, even after losing Wan'Dale Robinson to the pros.
"I feel like it's the most talented receiving corps we've had since I've been here without a doubt. I mean, obviously, it's going to be extremely tough to replace Wan'Dale [Robinson]. You can't. You have to have a group but Tayvion is a really nice answer with some maturity and some experience in there, so that's really good."
Stoops also singled out DeMarcus Harris, Dane Key, Christian Lewis, Dekel Crowdus, Barion Brown, and Chauncey Magwood.
"I'm really excited about that group, to be honest with you. Yes, there's definitely some inexperience but that's where the experience of a guy like Rich [Scangarello] can really have packages and have plays and have guys ready to get touches. We'll get them the football."
Already impressed by the tight ends
Adding to the excitement with the passing game is the return of tight ends Keaton Upshaw and Izayah Cummings, who missed most of last season due to injury.
"Izayah stood out to me today. Again, you know, because we missed him in the spring. And so that was really nice seeing him out there. He makes a big difference right away. And then having Keaton back at full strength, we need him to stay healthy. We need to see what he can do. Brenden Bates is a heck of a football player. And so, as a whole, that's one heck of a unit. And Jordan Dingle, I mean, he could do it all. He's a complete tight end."
No update on Chris Rodriguez
Stoops didn't provide an update on Chris Rodriguez's availability but did provide assurance that if Kentucky is without him for a period of time, they've got enough depth and playmakers at running back to go on. Get ready for that question again this afternoon.
The team is planning something for flood relief
The basketball team and Joe and Kelly Craft raised almost $3 million for Eastern Kentucky at last night's flood relief telethon. Stoops said the football team is also planning two projects, the details of which will be announced soon.
"You know, we get over here we get in this bubble. We get consumed with what we're doing. But that is way beyond this. You know what I mean? That is so important. And I really love what Calipari did last night and the athletic department and we're all helping as part of that. We, as a team, we're going to do something. We have two things lined up. It'll come out later, you know, what we're going to do to help and you know, of course, your own donations and things of that nature. You do whatever you can and I just continue to ask people to do that. Do whatever you can and that's the great thing about this state, is it will unite."
Stoops had plenty more to say, but I have a feeling we'll hear the same comments in a few hours, so I'll stop here and let you listen to the interview below.