ESPN's profile of Mark Stoops is today's must-read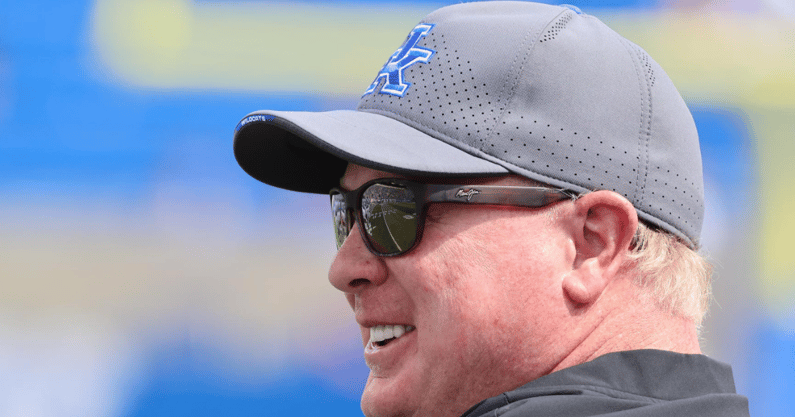 The college football spotlight is shining brightly on our old Kentucky home this week. The Cats' 6-0 start and Saturday's game vs. No. 1 Georgia have the national media finally turning their attention to what Mark Stoops has built over the past nine years. College Gameday is coming to Athens, SEC Nation too. Earlier this week, Ivan Maisel spoke to Stoops and his famous brother Bob about program building. Today, Kentucky Football is all over ESPN.com, most notably in an in-depth feature on Mark Stoops by Alex Scarborough and Ryan McGee. We don't like to send you to other outlets often, but this article is worth it.
Scarborough and McGee interviewed Stoops, Vince Marrow, and Mitch Barnhart about the last nine years, which have included a lot of hard work, patience, and finally, success. The feature covers a lot of ground we know well: Kentucky Football's tortured history, Stoops and Marrow's longtime friendship, blue-collar mentality, and the recruiting pipeline to Ohio. But, there are a few new nuggets, including this one about Marrow visiting CJ Conrad back in 2013.
One particularly uncomfortable visit stands out. Marrow was in Lagrange, Ohio, recruiting tight end C.J. Conrad when Conrad pulled out a photo. It was sent from a prominent Big Ten coach at the time and it showed a moment a year earlier when Kentucky lost to Vanderbilt 40-0. And while the score was bad enough, Marrow couldn't get over the setting; there had to be less than 3,000 fans in the stands.

ESPN
My, how things have changed. Commonwealth Stadium is now the "raucous show palace of Kroger Field." Kentucky's budget has grown from $16 million in 2014 to $29 million in 2021. There are still big needs: a proper indoor practice facility and higher salaries for assistants. However, for now, Scarborough and McGee conclude that Stoops is happy to play with a "Big Blue chip" on his shoulder.
…But seriously, let's get that track out of Nutter.