Mark Stoops expected to remain as the head football coach at Kentucky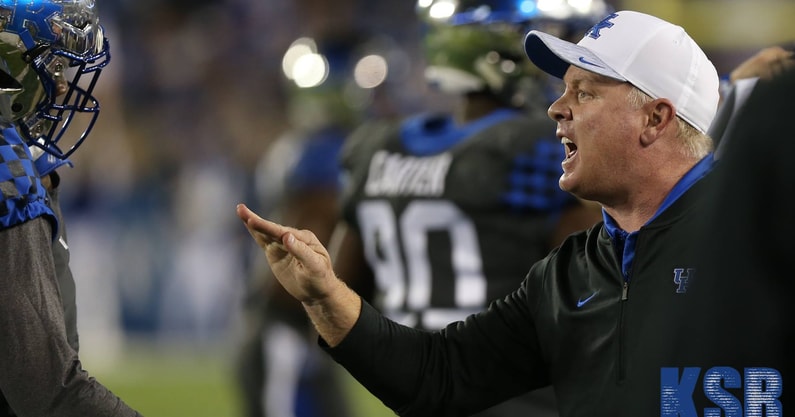 Breathe easy, Big Blue Nation. Sources inform Kentucky Sports Radio's Matt Jones that Mark Stoops is expected to remain in his role as the head coach of the Kentucky football program.
"I believe that Mark Stoops and Mitch Barnhart reached an agreement on over the weekend about changes that need to be made in the program. And I now feel confident in saying that Mark Stoops will remain as the coach at Kentucky," Jones said on Tuesday's KSR radio show.
"The changes that will take place will include the building of the (practice) facility — whether it's this current one or another without the track or a new one — the recruiting budget and support staff in general. I think pretty much everything that was wanted ended up occurring. It's great news. I feel very good about the whole thing. It was Saturday before the game against Louisville."
Speculation swirled wildly that Stoops could leave Lexington after his ninth season as the coaching carousel took a crazy left turn. Multiple reports tied Stoops to vacancies at LSU and Oklahoma. Instead of entertaining the job openings, Stoops hit the road recruiting to continue building Kentucky's football program.
"Naturally, I want ten (wins)," Stoops said after the victory over Louisville. "That's human nature. We all want more. We're just going to keep on working, keep on growing the program, keep on recruiting."
Stoops is just three wins away from surpassing Bear Bryant to become the winningest head coach in Kentucky football history.