Mark Stoops: "I'm committed to Kentucky and I wanted everybody to know that."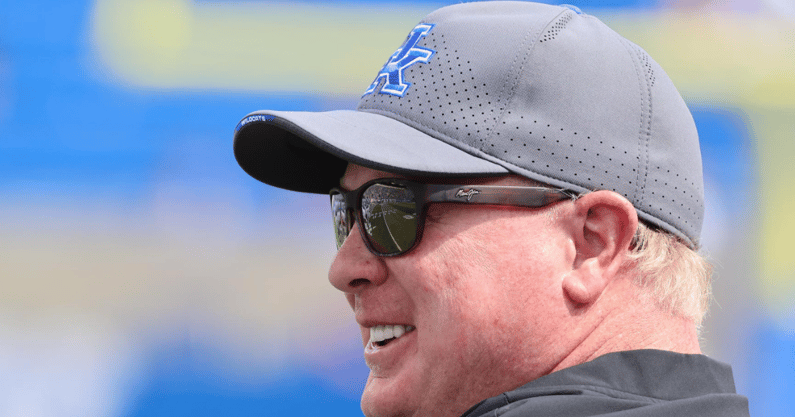 Mark Stoops wanted the world to know he is a Kentucky Wildcat and that he will be for the foreseeable future.
Tuesday afternoon the University of Kentucky announced they had reached an agreement with Mark Stoops to restructure and extend his contract through 2028. Details of the contract were not released because it has not yet been signed. Even though it's not formally finalized, Stoops wanted to let the world know he's not going anywhere.
"It was probably a little premature getting it up there, but I just wanted to do it because there was too much speculation. It's been going on for a couple of weeks and you know that wasn't the case," Stoops said during his call-in show.
Stoops had been linked to a number of high-profile coaching vacancies. At one point he was the second betting choice to replace Ed Orgeron at LSU. While speculation swirled, he remained focused on moving the program forward.
"Mitch (Barnhart) and I had a conversation, maybe two weeks ago, I want to say, and we had a good conversation. We talked about things that we felt needed to grow within the program and the organization. He was willing to commit to that and wanted to and was asking my opinion on what we needed to do. It was really as simple as that. It wasn't too much haggling at all. You know, it was more about a simple conversation of what do we need to do, how do we need to get to the next level? And let's do that."
Although not released by UK, those details include creating a full-length practice facility and increasing Kentucky's support staff and recruiting budget. Stoops was not able to attend the call-in show in-person because he was on the road recruiting.
"There was so much going on and speculation and I want to recruit. I've been hitting the ground. I said that Saturday after the game that I was ready to get to work on Sunday, and that's all I've been doing. That's all my concentration has ever been on is making this program better. But, you know, I also want to make sure we have the ability to do that and we have the resources to do that and, and to get better in certain areas. You know, once Dr. Capilouto, Mitch and I, if we say we're going to do something, then we do it."
Kentucky's head coach added: "I didn't even want any of our recruits, guys have been committed to us for a long time to even think I was out there entertaining, any other opportunities or anything. There's still things out there and there's still people calling, but I'm committed to Kentucky and I wanted everybody to know that."