Mark Stoops, Kentucky agree to contract extension through June 2028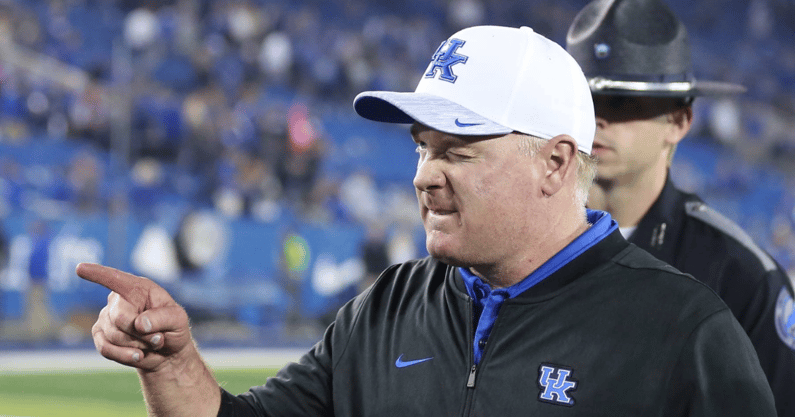 Our good news was just confirmed. Kentucky athletics director Mitch Barnhart just issued a statement saying that Mark Stoops has agreed in principle to a contract extension to remain Kentucky's head coach through June 2028. The contract continues guaranteed extensions for any season with seven wins (one-year extension) or 10 wins (two-year extension). The agreement takes into account the Wildcats' current 9-3 record, which already had earned a one-year extension through June 2027, regardless of the outcome of Kentucky's upcoming bowl game. Financial terms were not disclosed.
"We have been in discussion with Coach Stoops in recent weeks and are excited about his ongoing commitment to Kentucky," Barnhart said. "Coach Stoops has done an outstanding job in building the UK football program and we look forward to continued success under his leadership."
 
"Our football and athletics programs have demonstrated an unwavering commitment to success for our students — on the field and in the classroom," said UK President Eli Capilouto. "Our football program, under Coach Stoops, has only strengthened the commitment that we have as an institution to putting students first in everything that we do. We are preparing our students for lives of meaning and purpose when they leave UK, no matter what path they take."
 
"I'm excited to continue to build this program to national prominence," Stoops said.  "We're on our way and I'm more confident in Kentucky football than I've ever been.
 
"I thank President Capilouto and Mitch Barnhart for their support.  The continuity among us for the last nine years is extremely valuable and I'm looking forward to more success together.
 
"Mitch and I came to an agreement a week or two ago and shook hands on it Saturday afternoon. This process is a compliment to our relationship."
On this morning's show, Matt Jones reported that Stoops and Barnhart spoke on Saturday prior to the Governor's Cup and came to an agreement contingent on a new indoor practice facility and recruiting budget.
"I believe that Mark Stoops and Mitch Barnhart reached an agreement over the weekend about changes that need to be made in the program. And I now feel confident in saying that Mark Stoops will remain as the coach at Kentucky," Jones said on Tuesday's KSR radio show.
"The changes that will take place will include the building of the (practice) facility — whether it's this current one or another without the track or a new one — the recruiting budget and support staff in general. I think pretty much everything that was wanted ended up occurring. It's great news. I feel very good about the whole thing. It was Saturday before the game against Louisville."
Since taking the job following the 2012 season, Stoops is 58-53, 46-29 over the last six seasons. He is only three wins away from surpassing Bear Bryant to become the winningest head coach in Kentucky football history, a benchmark he will easily pass, especially considering this news.
You know what this calls for.