Mark Stoops on his contract extension: "This is my home"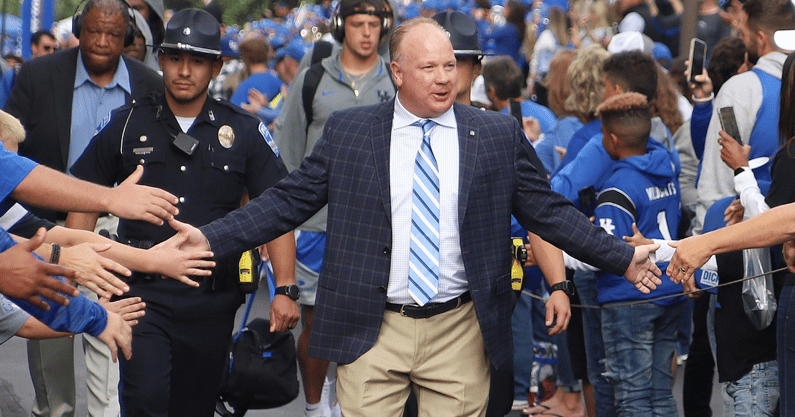 Yesterday, word finally got out about Mark Stoops' contract extension, which will keep him in Lexington through June 2031. Starting in February, Stoops will make $8.6 million per season ($9 million when you add in his base pay of $400,000), a hefty increase from the $6.35 million per year he currently makes.
According to UK's open records, Stoops agreed to the extension on Nov. 11, the day before the Vanderbilt game, and Kentucky was set to announce it on Nov. 18, the day before the Georgia game. Yet, they held off. In his press conference today, Stoops explained why.
"We made that commitment to each other a while ago and I kind of feel bad about the timing of it. Nobody — I wasn't very proud of some of the losses, certainly coming off through the Vanderbilt game and all that."
Now that the cat is out of the bag, Stoops is happy to affirm his commitment to Kentucky. The school formally announced it right before today's press conference.
"I told you last January, that when Mitch and I and Dr. Capilouto make an agreement, you know, we make an agreement. And I said that about Jimmy [Sexton] and lawyers and all that stuff. But we have worked together so long that we have a great commitment to each other and a trust and a belief in each other and this stability was important. And early in the season, there was a lot of noise and I just simply said, 'I am committed to this. I'm not going anywhere. I'm committed to this place.' And they said vice versa.
"And so it was agreed upon when things were really good, but obviously, I feel bad for Mitch and Dr. Capilouto and not doing my part, you know, truthfully. After that game, I, believe me– I better just stop there. I felt very bad about that loss and some of the parts of the season."
Watch the latest Mark Stoops press conference on the KSR YouTube Channel.
Moving benchmarks a sign of progress
Clearly, the salary increase is the main takeaway from the extension. Stoops will make $100,000 more per season than John Calipari until Calipari's next scheduled raise in July 2025. There are some other notable changes too. The $250,000 bonus and automatic extension when Kentucky reaches nine wins are gone, replaced with a $500,000 bonus if the Cats make the College Football Playoff, $650,000 if they reach the national championship, and $800,000 if they win the whole thing. Stoops will receive $100,000 for every season Kentucky participates in a bowl game, or $150,000 if the team reaches eight wins in a season.
Today, Stoops said moving those benchmarks is an important mark of progress.
"Absolutely. It's important and I think the contract that I had also could roll over for a very long, long, long time. And we got to that point where it was like, okay, I think that piece of it we could let go and move on from the automatic rollovers and things of that nature. We never know, you know — none of us can predict the future, so it was a commitment. I was appreciative."
"I'm committed to this place."
It's been a wild season for Kentucky Football. The highs include Mark Stoops passing Bear Bryant to become the winningest coach in program history and a top-ten ranking going into the Ole Miss game. The lows were the blowout loss at Tennessee and embarrassing missteps vs. South Carolina and Vanderbilt at home. Through it all, Stoops' name was a popular one as various jobs became open, including Nebraska and Auburn. He hopes this extension puts all of that chatter to rest. Stoops' buyout has been raised from $1.75 million to $4.5 million but will decrease by $500,000 with every year he stays at Kentucky throughout the duration of the new contract. 
"It simply, as easy as it was the last time, for me, it's like, you know, I know I'm committed here. If that proves to everybody, so people quit talking about things — now I know we lost, so everybody started saying the other way," Stoops quipped, drawing a chuckle from the room. "But I get it, I take the good with the bad."
"I have been here a long time but I'm committed to this place and have been. This is my home. This is the place that I've helped build to this point. We have built it to this point. Do we want more? Yes, I think we want to continue to grow. Dr. Capilouto expects more. Mitch expects more and I do. And I want to continue to build, continue to have the continuity and I want to improve and there's a lot of people that would like to have the stability that we've had and there's a lot of people that, would much like us, be driven to compete at higher levels as well."
When asked, Stoops declined to share whether or not he listened to any pitches from other programs this year.
"I don't talk about any of that because I don't like to disrespect any school or anybody or anything. I think with the work that we've done here, I think it goes without — I mean, I don't need to say anything. I think there's been a lot of people over the years that have inquired, and I don't go — I really don't push that. I'm in season. I'm committed to my players. I'm committed to this place and I've never strayed five minutes from that."
With National Signing Day coming up and the transfer portal opening soon, Stoops especially wants recruits to know he's staying put.
"I think that definitely plays a role. I get asked all the time [if I'm leaving] and I don't ask things to get written. I don't put anything out there. You know what I mean? So, I constantly have to talk about that with recruits.
"Stability, as I say to them, show me any other programs that have been more stable. I'm committed to this place. I've shown it time and time again, and certainly I appreciate the commitment to myself and our staff."