Mark Stoops says Kentucky came out "flat" in win: "I'm not very pleased."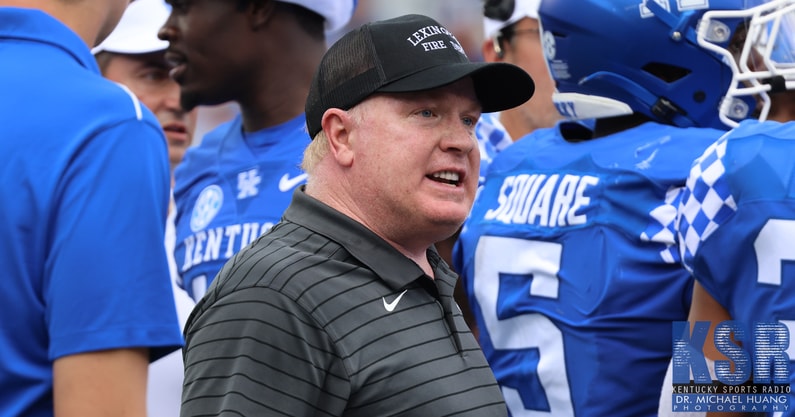 Kentucky football came away with a victory and now sit at 3-0 on the year, but it wasn't pretty. The team combined for just 356 total yards compared to Chattanooga's 339, was outrushed by 69 yards, lost the turnover battle, and had three more penalties (eight total) for 60 total penalty yards.
To put it simply, the Wildcats got caught sleepwalking and nearly suffered one of the most embarrassing losses of the Mark Stoops era.
Even with the victory, UK head coach took the ugly performance on the chin and shouldered the blame.
"The best thing is that we're 3-0, but I'm not very pleased," Stoops said following the win. "Just have to be better in all areas, starting with myself. … I've got to do a better job, plain and simple. Nobody but me."
In Stoops' eyes, it's one thing to come in physically and mentally prepared and not be pleased with the results, win or lose. When you fall short in preparation, though, that's when ugly performances really sting.
"You've got to be good enough to win when you're not at your best. You have to respect the game," he said. "This game we love is about preparation. Whatever happens, happens, if you do your best in preparation. I'm not happy with myself in that and I've got to find a better way to motivate them."
After coming out and playing hard in Kentucky's first two games of the season, Stoops said it was clear from the start the team came out "a little flat." Chattanooga's early score to tie the game at 7-7 in the first quarter gave the Mocs confidence they could hang around.
"You worry about (focus)," Stoops said. "Coming off the first two games — we made mistakes in all the games, but we played extremely hard. I have to look at it on the film, but it felt a little flat to me. When you start and give up a touchdown drive early, it starts that aggravation. That was really the only drive in the first half, but it's still 7-7 instead of getting a stop there."
Stoops was quick to give credit to Chattanooga for playing with heart and discipline, two things Kentucky failed to bring to the table on Saturday. They refused to beat themselves, and it nearly resulted in an upset road victory.
"Their staff, the players, I want to credit them," he said. "I knew early in the week that (Chattanooga) is a good football team, a very well-coached team that wasn't going to beat themselves. And they didn't. Give their coaches and players credit, they stepped up and made some unbelievable individual plays and played extremely hard. Give them the credit."
Above all else, Stoops hopes to see some accountability moving forward. There's a learning opportunity on the table, and he hopes his players take advantage.
"You have to always learn. In wins and losses, you learn," he said. "You learn about this team, our current situation where we're at, what we're doing. You're always trying to grow and learn. If they can use that as a learning opportunity, then fine."
Now, it's about Kentucky going back to the drawing board and correcting their mistakes leading up to a massive SEC road game at South Carolina.
"We'll go back to work and look forward to getting on the road and trying to get an SEC win next week," Stoops said. "… Don't apologize for winning the game, but worry about getting better. Let's pick it back up, come back in the building Monday ready to prepare to go on the road and win an SEC game.
"I expect they'll do that."