Stoops: Kentucky needs to play with "sense of purpose" vs. Mississippi State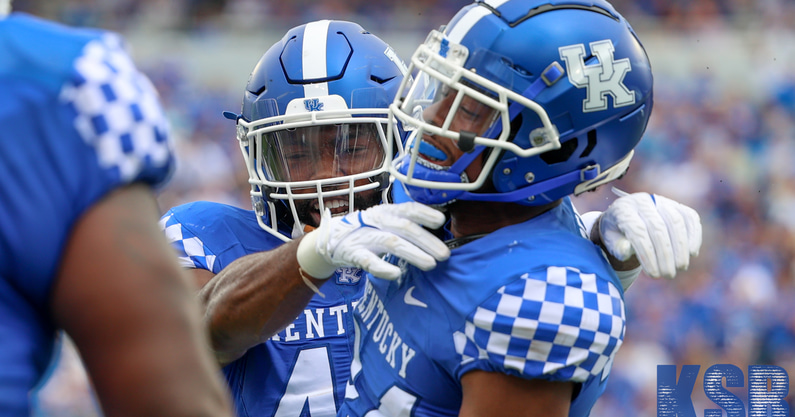 Before departing for Starkville, Mark Stoops had a message to share with his team. After two solid weeks of practice, the Wildcats must bring an intense mentality and a sense of purpose into the game against Mississippi State.
"We have to learn from every situation. Wins and losses we learn from. Losses you tend to learn more because you get scarred. Call that experience, you can call that scars, you can call it what you want, but it stinks. We're always trying to grow and get better," Stoops said in his final meeting with the media of the week.
"I think with this team… I would be remiss if I did not bring that up. I want to go down there knowing — because we just had two good weeks of prep — I want to make sure our mentality is right and that's what I've talked about for the last couple of days. We've gotta come down there with a sense of purpose. When we get on that plane and we land in Starkville, we've gotta have an attitude about us because it's not easy and we're playing a very good team. We have to match that intensity on the road."
The Kentucky head coach is slightly changing things up to make sure his team is well-equipped to beat Mississippi State.
A Change in Travel Routine
Kentucky's travel plans are different this year. Typically the Wildcats stay out of town in either Tupelo or Columbus, Ms. on Friday night, then drive 60-90 minutes into Starkville for the game. Now 0-4 as UK's head coach at Mississippi State, Stoops is changing it up, keeping the Wildcats in Starkville Friday night.
Delay in Dekel Crowdus' Return
Stoops had a final injury update from the wide receivers room. True freshman Dekel Crowdus returned to practice earlier this week, but Stoops said, "Dekel is not ready to play yet." However, Josh Ali is ready to roll.
"Hopefully he won't have any setbacks," Stoops said. "I think (Ali) definitely helps. You got a guy with that kind of experience that's been down there before, been through a lot of big games. We need all the help we can at that position so we welcome him back."
Kentucky Receiver Improvement
Stoops spoke approximately an hour before Dane Key announced his commitment to Kentucky. A significant addition for the Wildcats, Stoops believes the program is making all of the right moves to ensure the pass-catchers are becoming impact playmakers.
"We have to get better at that position. We have to develop the guys we have here and I think we are. Those guys are getting better and as Liam and the coaches continue to push through this system, that'll happen automatically. But also roster turnover, roster management, recruiting, bringing guys in — that's part of it. I have to do our part on bringing in guys that are impact players, but I definitely feel like it's been much more helpful to recruit high school athletes."