Mark Stoops wants Kentucky to "get back to playing with a chip on our shoulder"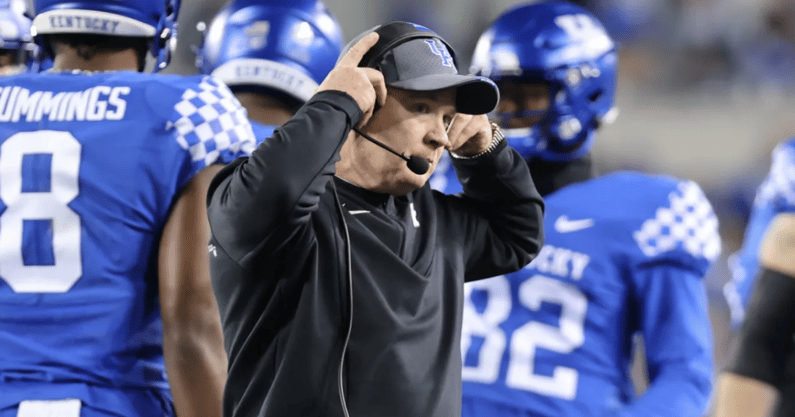 The 2022 Kentucky Football Pro Day served as an opportunity for Will Levis to receive life-changing exposure in front of NFL scouts. He caught the eyes of NFL personnel while completing passes to Wan'Dale Robinson and quickly jumped up into first-round conversation.
This year Levis will give Kentucky's young wide receivers an opportunity to shine in the spotlight during his highly-publicized Pro Day. Guys like Dane Key and Barion Brown can make the most of this opportunity, yet Mark Stoops doesn't want it to go to their heads.
"Listen, they have a lot of work to do," Mark Stoops shared with the media shortly before Levis began his throwing regimen on the SEC Network.
"I love our players, you know that. I like to speak very highly of them, but let's not blow things up until they really produce on the field on a consistent basis. That's where we need to take our program to another level. Listen, we're proud of our guys, we like to promote them and all that, but let's go put it on the field. Let's prove it. Let's get back to playing with a chip on our shoulder."
Mark Stoops is not a "Corny Fake Guy"
Mark Stoops may not want to gas up his current players too much. But he is happy to see his former players realize their dreams by competing for a spot in the National Football League at Friday's Pro Day.
"It really helps our players, without being one of those corny fake guys. But ultimately, that is what it is, it's about these guys. I love these players. The former players coming back and being around our program and being around our guys and seeing them be successful and seeing the struggles that they had along the way, then come out on the other side. That's what it's about. Our guys that are participating here today, you know the ups and downs that they've had throughout their career here and preparing them for life. Things come at us all and hopefully, there'll be better prepared."
I know of a corny fake guy that may or may not have taken a shot at Mark Stoops this week. Even if this is not a shot back at Shane Beamer, the game against South Carolina will feel extra personal this fall.
Former Wildcats Provide Coaching Points at Practice
There is a not-so-short list of former Wildcats in town for UK Pro Day that includes Lynn Bowden, Wan'Dale Robinson, Benny Snell, Landon Young, Justin Rigg, and Luke Fortner, among others. During Thursday's spring practice, a few stepped in to provide teaching points to the current Wildcats.
"I love it because, actually some things happened, and a few teaching moments happened right in front of them. It's really good because they care. They want to help those players individually, but it helps us. Hearing it from a different voice and just talking about the little things that it takes, that's what it's about," said Stoops.
"I can't say enough, I've had a just big smile on my face all week with a lot of the former pros back, working out and hanging out with us. I love seeing them and love it when they can give back to the players and coach a little bit, just reinforce the things that we're trying to teach."