Mark Stoops on Kentucky's indoor facility: "We need to address it"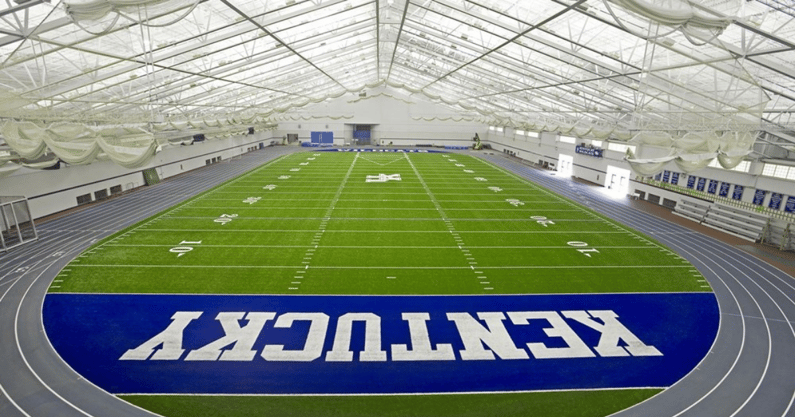 During the Mark Stoops era, Kentucky Football has made notable improvements to its facilities, renovating Kroger Field and constructing a new state-of-the-art football training center. One big item is left on the to-do list: the indoor practice facility.
Stoops has voiced his complaints about the Nutter Field House before. A track encircles the turf in the 29-year-old facility, cutting the sidelines and end zones off to make the field 100 yards long in some places instead of the standard 120. As Kentucky Football continues to rise, Stoops' calls for an improved facility are getting louder. Lonny Demaree poked the bear today, asking Stoops if there's been an update in his quest for a remodel.
"We need to address it," Stoops said, nodding at UK deputy athletics director Marc Hill, who was sitting in on the press conference. "We need an indoor [facility]. Let's face it. We need an indoor. You can do the research in the Power Five, how many teams don't have a full indoor. There are two. Us and Vandy."
Not for long. Last month, Vanderbilt announced plans for a new indoor practice facility that will include a full-length practice field adjacent to the team's outdoor practice field.
Barnhart hopeful indoor facility renovations will happen soon
During an appearance on Kentucky Sports Radio on Sept. 2, UK Athletics Director Mitch Barnhart acknowledged that the Nutter Field House is outdated. He said the department hopes to build an indoor facility for the track and field team in order to remove the track around the turf in Nutter and expand the field.
"It's old — it's older. It allows us to do some stuff." Barnhart said, "It needs more run-out, is what it needs. The track is around it and we've talked about finding a way in the facilities to create an indoor facility for our track team to prepare.
"Obviously, some of the people that won medals in the Tokyo Olympics, people are very proud of what they've done, and they trained on that track. Clearly some world-class athletes have been on that track. We've got to get the track out of there and get it wall-to-wall with grass so we don't have the run-out issues.
"Other than that, we can revamp it and it'll be fine in terms of widening. We hope (it will happen soon). It's not one of those things where you can flip the switch on. Keep in mind, let's go back to what's happened in the last 18 months. We were just trying to survive financially."