WATCH: Mark Stoops speaks one final time before Kentucky's SEC opener
Kentucky is 3-0 but has not seen a true test on the field yet. For the first time this season, Kentucky will hit the road and play an SEC opener this weekend. The Wildcats find themselves in a revenge spot after last season's upset loss to Vanderbilt in Kroger Field.
Head coach Mark Stoops has addressed that loss multiple times this week. The Wildcats are looking forward to getting on the field and earning the first SEC win of the season.
"I do like the way our team has prepared this week. I've felt like their attention to detail and their focus has been heightened a bit. I think they're tired of leaving plays on the field. It's not a matter of who we're playing, it's always a matter of us executing to the best of our ability," Stoops told the media on Thursday. "There's been some really good things, and there's been some sloppy play. I think the players have done a better job this week of really focusing and trying to improve."
Stoops believes that last year's result has the team's attention. Kentucky has been locked in throughout the week of practice and in meetings at the Joe Craft Football Training Facility. The Wildcats will get on the bus to head to Nashville on Friday to get ready for a morning kickoff in Middle Tennessee. Stoops did not provide any injury specifics and only stated that the Wildcats are in "decent shape".
Will Kentucky play well in a revenge sport? We'll find out soon.
More Kentucky News and Views on the KSR YouTube Channel
Kentucky Sports Radio has expanded its coverage of the Wildcats in the most ridiculous manner possible on our YouTube Channel. Here you will be able to find interviews with coaches and players, as well as commentary from the KSR crew. From Rapid Reactions following big events to our lengthy lineup of live shows, subscribe to the KSR YouTube Channel to stay up to date on everything happening around the Big Blue Nation.
Monday: Mark Stoops Press Conference & Rapid Reaction
Monday, 8 PM: KSR Football Podcast
Tuesday evening: Interviews with Liam Coen and the offense
Tuesday, 8 PM: Sources Say
Wednesday, 1 PM: Stoops' comments from the SEC Teleconference
Wednesday evening: Interviews with Brad White and the defense
Wednesday, 8 PM: 11 Personnel
Thursday evening: Final comments from Stoops after practice
Thursday, 8 PM: Point Kentucky, KSR's new Volleyball Show
Friday, Noon: Pigskin Preview
Friday night: Kroger KSR Game of the Week recap, highlights
Saturday: Postgame Press Conferences, Interviews, Rapid Reaction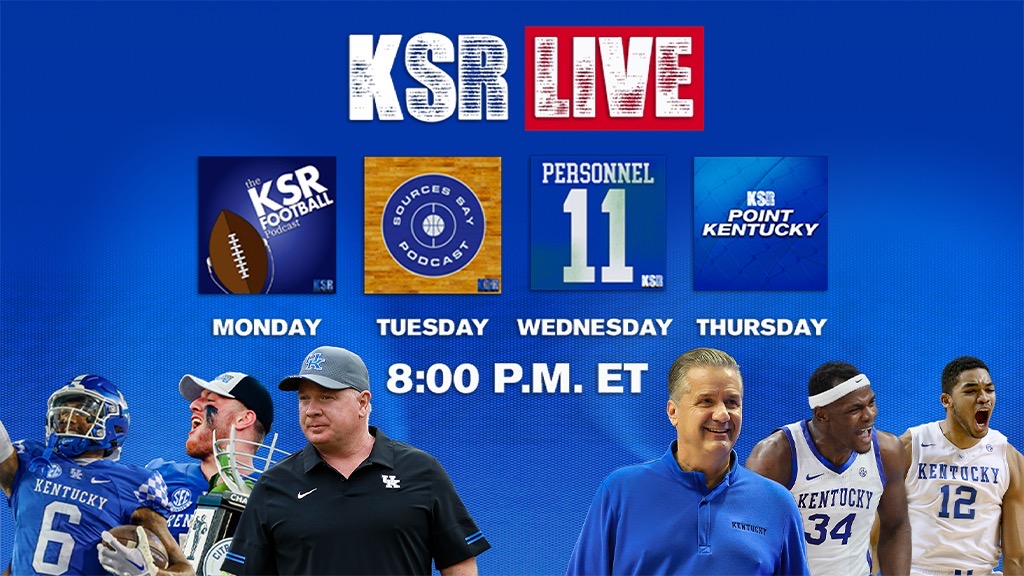 Discuss This Article
Comments have moved.
Join the conversation and talk about this article and all things Kentucky Sports in the new KSR Message Board.
KSBoard