Mark Stoops teams obliterating Kentucky rushing records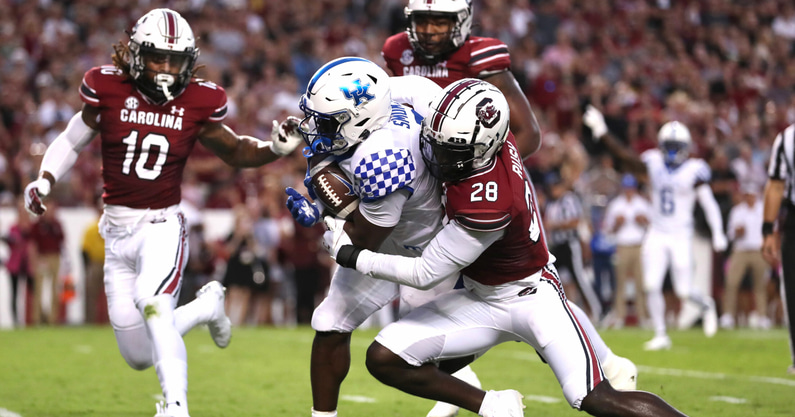 Under head coach Mark Stoops, Kentucky has dominated with its rushing attack. First, it was JoJo Kemp and Boom Williams, then Benny Snell broke every record imaginable. In 2019, Lynn Bowden re-invented the quarterback position and broke another slew of rushing stats. And in 2021, it's Chris Rodriguez and Kavosiey Smoke leading the charge on the ground. All powered by the group of gnarly blockers known as the Big Blue Wall.
But let's put some context around just how incredible the 'Cats have been in the rushing attack under Mark Stoops.
Yards Per Carry
If we look at the career yards-per-carry leaders in the lengthy history of the UK Football program (with minimum 100 carries), here's what the top seven look like:
Lynn Bowden Jr. — 7.4 yards-per-carry on 206 carries
Boom Williams — 6.8 on 367 carries
Chris Rodriguez — 6.8 on 277 carries
AJ Rose — 5.8 on 341 carries
Randall Cobb — 5.8 on 288 carries
Kavosiey Smoke — 5.6 on 181 carries
Sihiem King — 5.6 on 113 carries
That's six Mark Stoops running backs and Randall Cobb, perhaps Kentucky's most talented offensive player from this century. The craziest part: Benny Snell isn't one of the six Stoops' running backs to appear on the list.
Career Rushing
Benny Snell tattooed his name all over the record books in other ways, though. In just three seasons under Mark Stoops, Snell eclipsed Sonny Collins for the career rushing yards record (3,873) and nearly doubled the career rushing touchdown record with 48 to Collins' 26.
Boom Williams and AJ Rose are also top 10 on the career rushing list, and Chris Rodriguez will crack that group in the next couple of games if he stays healthy and stops fumbling. Assuming C-Rod sustains his pace so far this season (130 yards per game), the junior running back would pass Mark Higgs for fifth on the all-time list. And it's his first season as the primary tailback after sharing the load with AJ Rose over the last two seasons.
He's already off to a heck of a start in 2021:
Single-Season Rushing
Benny Snell finished with a top 10 rushing season and a top 10 touchdown-scoring season among all Kentucky running backs in each of his three of his years in Lexington. Lynn Bowden and Boom Williams also had single-season rushing totals in the top 10–Bowden finished 2019 with 1,468 yards, the second-highest season total in school history.
Five of Kentucky's top 10 single-season rushers came in the Mark Stoops era.
And a few more notes: Lynn Bowden quarterbacked back-to-back games in 2019 that broke the school's single-game rushing record. Bowden and the 'Cats pounded UT Martin for 462 yards, and then the next week blasted that record with 517 yards against an even worse opponent: Louisville.
Plus, Bowden broke another record in that Cardinals beatdown by recording the most rushing yards ever by an SEC quarterback in one game with 284 to go along with four touchdowns. Four touchdowns in one game also tied Kentucky's single-game record, a mark Benny Snell reached twice himself.
Have I thrown your head through a seemingly neverending numbers loop? I hope so. Kentucky's dominance on the ground under Mark Stoops is disgusting in the best possible way, and there's an encyclopedia of statistics to back it up.