Mark Stoops reacts to Kentucky being called a Top 10 College Football job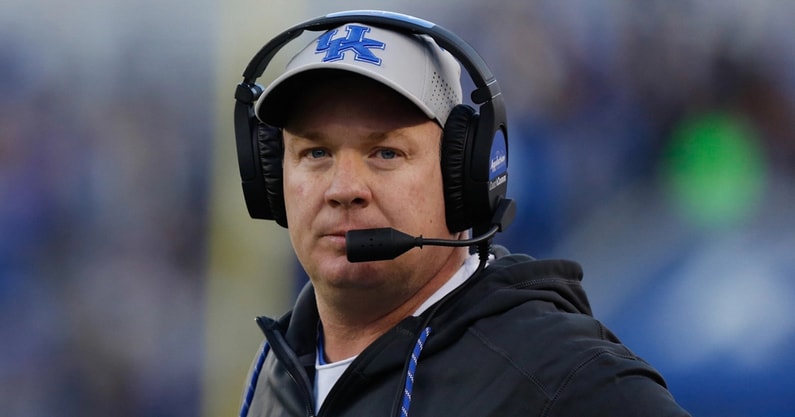 What does Mark Stoops make of the chatter among national media that Kentucky is one of the top ten jobs in college football? When asked on the SEC Teleconference today, Stoops couldn't help but recall how dire things were when he took over for Joker Phillips back in 2013.
"I guess I take that as a compliment because when I got here I can guarantee you it was a bottom ten [job]."
Peter Burns and Andy Staples are the most prominent talking heads beating the drum for Kentucky being one of the top jobs in the sport. Their reasoning? Reasonable expectations from a great fanbase, top-notch facilities, the SEC, and recruiting pipelines. Staples said if Stoops averages eight wins per year, he'll have a statue one day in Lexington. Josh Moore asked Stoops if "reasonable expectations" like eight wins are a backhanded compliment to what he and his staff are trying to accomplish.
"I don't really know, I can't read people's minds when they interpret it but I can promise you — you cover us on a daily basis, so you watch the growth. I think you understand our determination to not just talk about that but do the things necessary to win the SEC. I've said it since Day 1. If people want to say it's a top ten job, well, when I talked about taking [Kentucky] to national prominence when I walked in here, people laughed at me and we're on our way.
"Each and every year, it's been a building block and taking steps. It's not easy in this league in particular. I think you can see that. Take a good look at Texas/Arkansas, you think it's easy building a team of national caliber in this league and taking it from No. 14 [in the SEC]? When I walked in here, we got beat by Vanderbilt by 30 points the year before I got here. So you take it from 14 to the top, there are steps. There are progressions that need to happen and we're taking those steps. We have no intention of slowing down." 
He's got G and he's sitting on O, let's GO.