Mark Stoops: "The turnovers are definitely hurting us"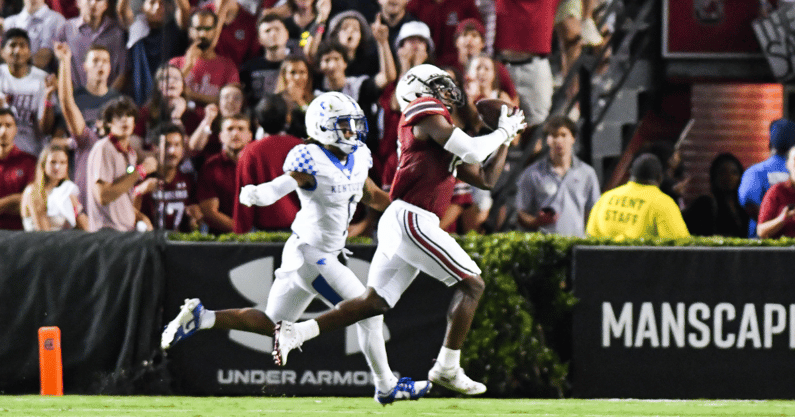 A win is a win, but there's no escaping the fact that Kentucky continues to shoot itself in the foot with turnovers. The Cats turned it over three times tonight, bringing the season total to eleven. Kentucky's turnover margin, -9, is the second-worst in the country behind UTEP (-11).
Three is bad, but it could have been five. Chris Rodriguez fumbled the ball twice but saved one and Eli Cox recovered the other. Will Levis threw an ill-advised deep ball in the second quarter that was picked off at the South Carolina one-yard line. Josh Ali fumbled it twice, once at the end of the third quarter and again on Kentucky's next drive. Thankfully, after each turnover, Kentucky's defense stepped up to save the day.
"The turnovers are definitely hurting us," Stoops said afterward. "They hurt our momentum. They made it become a close game once again. Really got to give credit to Coach [Brad] White and the defensive coaches and defensive players for stepping up time and time again."
With Florida coming to town, Stoops knows there is no room for error.
"The turnovers we've got to get corrected. I give [South Carolina] some credit for that too. At least I know one of the last ones it seemed they put their helmet right on the ball, but we've got to do better. We've got to get that cleaned up and we will."
Chris Rodriguez's fumbles "not acceptable"
Chris Rodriguez now has four fumbles on the season. The junior is fortunate that only one of those was recovered by the defense (vs. Missouri). Despite the mistakes, Stoops still felt confident enough to go to Rodriguez when the game was on the line late in the fourth quarter.
"I can't make an excuse for him," Stoops said. "That's just not acceptable. He's just played too much football for us to do that. And we rely on him too much. And at the end of the game, I wanted him back in there. And I count on him. And he once again iced the game by getting tough yards. When everybody in the stadium knew we were running the ball, he got a first down and iced the game. The only thing I can say is we can't make an excuse. We've got to look at everything and go back to work and get it corrected."
Levis: "I need to be making better decisions"
Levis threw his fifth interception of the season, a long ball deep into South Carolina territory intended for Wan'Dale Robinson but picked off by Jaylan Foster. Levis finished the game 15-22 for 102 yards and zero touchdowns.
"Obviously, with the interceptions, that just can't happen," Levis told reporters. "I need to be making better decisions, throwing better balls."
Levis said he intends to take responsibility for the turnovers in practice and hold his teammate accountable. He also pointed out that the fact that Kentucky keeps winning is a testament to how good they'll be once they get the mistakes cleaned up.
"We're 4-0 and we probably have the most turnovers in the country. Someone can go check to see if there's a stat out there, if that's ever happened. It's obviously something we have to get fixed but if we can still go out and win games like that it goes to show how much potential we have left with this team."
"Like I said, it obviously sucks looking at the turnovers but it's encouraging to see that we're still able to win games like that despite turning the ball as much as we did. Once we clean things up, games are going to become a lot better for us and I think we're going to become a much better team and show people what our true potential is."
"It says a lot about the defense"
After each of Ali's fumbles, Kentucky's defense stopped South Carolina on fourth down, pivotal moments with the game still on the line. Stoops was not surprised.
"It says a lot about the defense. They were really excited to make those stops. They didn't put their head down when they got put in that position. They didn't mope. Oh, poor me. Only on the bench for a few plays and get right back out there and they buckled down and made stops. It says a lot. It doesn't surprise me. We've got really good leadership."
Linebacker DeAndre Square echoed Stoops' comments, telling reporters the defense embraces every opportunity to be on the field.
"We always have the mentality of, if a sudden change happens, we always say, 'Good.' It's the mentality that the whole defense has, that it's not a bad thing. We get a chance to go out there and show our talent. When stuff like that happens, we get excited. Not because of a turnover, but we get to go out and do what we do. It's good."