LSU has "legitimate interest" in Mark Stoops, per Bruce Feldman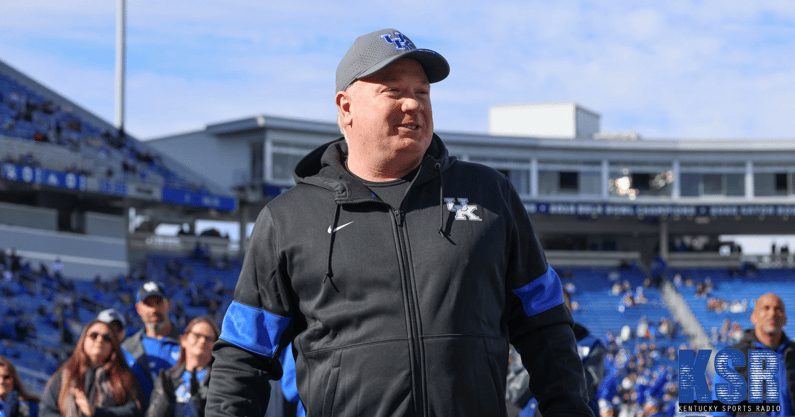 The LSU/Mark Stoops buzz is getting louder. On Friday, Matt Jones reported that the Tigers reached out to Stoops via a third party about their head coaching position. Now, Bruce Feldman is hearing the Tigers are increasingly interested in Stoops, and he could be a candidate for the Florida and Miami jobs as well.
The 54-year-old Ohio native won SEC Coach of the Year honors in 2018 and has only kept building at UK since. He's now beating other more high-profile SEC programs for some prime prospects. He is 31-17 in the past four years. He has proven he has a sharp eye for talent and can develop NFL-caliber players and his teams are physical and focused. Stoops is expected to be a target for UF and perhaps LSU too. On the field, he beat Florida when the Gators were No. 10 in the country and his Cats thumped LSU. Stoops also might be a target for Miami if the Canes can't get Cristobal and don't go after Kiffin. Stoops knows the state well from time coaching on the USF, Miami and Florida State staffs.

Stoops' name has gotten hotter inside LSU in the past week or so, and sources say the Tigers have legitimate interest because they see him as a proven a program-builder. Stoops has a chance to lead Kentucky to its second nine-plus winning season in the past four years at a place that had only won more than eight games four times in the previous century.

The Athletic
Last week, Matt said LSU's list is, in order of preference, Jimbo Fisher (Texas A&M), Bill O'Brien (Alabama offensive coordinator), and Stoops. Yesterday, Glenn Guilbeau of Outkick reported LSU is down to three candidates: Dave Aranda (Baylor), Billy Napier (Louisiana-Lafayette), and Matt Campbell (Iowa State). Guilbeau is hearing a hire could be made by the end of this week or next. For what it's worth, Matt said on today's show he expects to know one way or the other about Stoops by the end of the weekend.
Sigh. Here we go!