Mark Stoops' message to Eastern Kentucky following deadly floods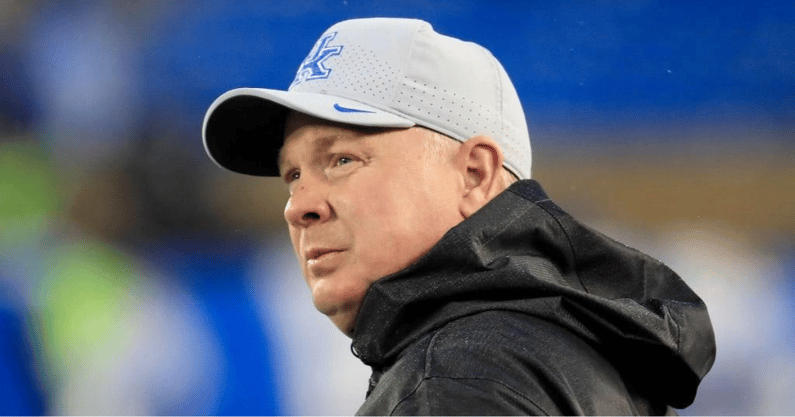 Earlier today on KSR, Mark Stoops said the Kentucky Football team is working on two projects to help those impacted by the deadly floods in Eastern Kentucky. A few hours later at Media Day, he didn't reveal any details but did tell reporters that he's already reached out to Breathitt County football coach Kyle Moore to offer his support and whatever donations the NCAA will allow.
"It's extremely hard," Stoops said. "I talked to (Breathitt County) Coach (Kyle) Moore and extended our condolences and offered up our services. We're collecting as many things as we can that we're permitted to donate through football because their locker room was destroyed and all the things there.
"But I did mention to Coach Moore, it's devastating. There's mass destruction. It's horrible no matter where you look at it. Certainly, I saw certain clips of that, of their locker room and them digging themselves out of that, cleaning themselves up. I just wanted him to know that we're here to help him and support him and donate the things as we can."
Last Saturday, the Lexington Christian Academy football team traveled to Breathitt County to lend a hand. Over 30 coaches, players, and parents helped the Bobcats, LCA's Class 2A foe, clear out their facilities. They also took all of the equipment back to Lexington to properly clean it, from pads to old trophies.
"I was raised that when you see you a need, you see a person in need, you do everything you can to try to help," LCA head coach Doug Charles told Fox-56. "Everybody thinks we're these bitter rivals, but the (high school football) fraternity is really strong."
"Those are tough, strong, resilient people"
Stoops reiterated that the team is working on ways to help Eastern Kentucky; for now, he encouraged flood victims to stay strong.
"The team is going to do a couple of different things to help, and we'll continue to do our part. I guess my only message would be to Eastern Kentucky, continue to stay strong like they are. Those are tough, strong, resilient people. We're going to do a lot of things to try to help them in the meantime, but we're also going to go out there and play extremely hard and hopefully represent them the right way, that they really have something in the fall to smile about."
In case you missed the telethon last night, the Kentucky Basketball team, along with Joe and Kelly Craft and the Red Cross, raised over $3 million for flood relief. They are still accepting donations. You can also donate to KSR and the Kentucky Chamber Foundation's Eastern Kentucky Flood Relief Fund.