"It's mass chaos." Mark Stoops is re-recruiting his own players in the NIL, transfer portal era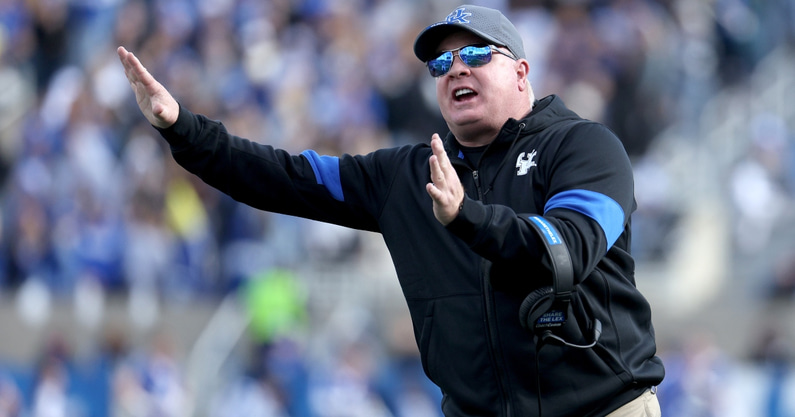 For years National Signing Day served as a building block for the future of college football programs. The Early Signing Period expedited that process from February to December. Another date has become even more consequential, Dec. 5, the day the transfer portal opens.
In December of 2021 Mark Stoops signed the nation's 17th-ranked recruiting class, the best in school history. More than a handful of those blue chip prospects have become immediate impact players. In the new world of NIL and the transfer portal, Stoops now must re-recruit the class he signed a year ago.
"With the name, image, and likeness man, it is just a different world. It is absolutely insane what's going on. Transfers. Your own team. You know how many people are going after our young players? We have as good of freshmen as I've ever had. And it's like a free-for-all," Stoops lamented on his call-in show.
"They're just throwing money, you know what I mean? I don't know, I don't understand. It doesn't seem healthy, I'm not sure it's sustainable, but it's legal, and once again I'm sorry. I hate to ask but we need the support. We need it desperately. It's total free agency."
Deone Walker has not played like a true freshman in the trenches. Alex Afari and Keaten Wade have made big plays at various points throughout the season. Four of of the five players who caught passes against Georgia were true freshman, including Dane Key and Barion Brown, who now holds all of UK's freshman receiving records.
"Some of the best recruits we have are the ones we know, that are here that can play, that are amazing young talents and are getting approached by everybody," Stoops said. "It's mass chaos."
Stoops wants to donate salary to NIL collective
On Sunday we learned Mark Stoops agreed to a contract extension to remain at the University of Kentucky through 2031. Next fall he will make $9 million, a more than $2.5 million raise. His life would be much easier if he could give it all to his current and future players.
"I wish I could give it back to the collective because I would," reiterating what he said at Monday's press conference. "I want to and I need to at this point."
That does not fall within the rules currently in place, however, who's enforcing the rules?
"There's nobody to even report it to," Stoops said Monday night. "I'm not singling out anybody here. I get tired of everybody telling me I'm talking about this school or that school. I'm just saying in general. We know that people have been caught giving money and nothing happens — when it was illegal! Well now it's 100 percent legal. So how are they going to monitor that? It's a crazy world. I don't know."
Unclear Future of Free Agency
Mark Stoops is not the only one sounding an alarm. An SEC staffer recently told On3, "I'm expecting total chaos." In recent weeks he's amplified the rhetoric surrounding NIL. He once avoided using the term "collective." Now he's calling it what it is, free agency. The difference between free agency in the NFL and at the collegiate level is there are not binding contracts for multiple years. All 85 players on the roster are up for up for grabs every single season.
"At some point when people are waving the money that they're talking (about), I don't know how you stop that," Stoops said. "When you got free access to transfer, and then you got name image and likeness, it's 100% free agency."
There are long-term ramifications for the sport as coaches adjust to the new norm in college football. Mark Stoops and others are compensated well, but their jobs got much more difficult. In the short term, recruiting has changed. In order to be competitive in the SEC, Kentucky must keep up with the competition in the high school ranks and also successfully recruit the young stars that are already on the Wildcats' roster.