Mark Stoops on College GameDay: "It's hard to get much bigger than this."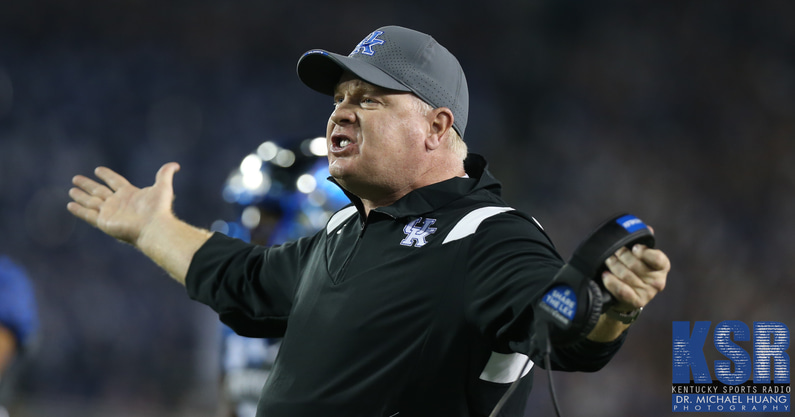 Mark Stoops has his team prepared for the big moment. With the college football spotlight zeroed in on the Kentucky football program, the UK head coach was quick to embrace the attention in an appearance on College GameDay Saturday morning.
"It's hard to get much bigger than this," Stoops told ESPN's Rece Davis and Kirk Herbstreit. "You're playing a fantastic team in Georgia on the road, it's a big SEC East battle, so we're very excited about it. It's a great opportunity. Our kids have worked extremely hard this year and for many years really putting us in a position to play in a game like this.
"Hopefully we're going to go out and play well. That's the plan."
College GameDay and SEC Nation chose No. 11 Kentucky at No. 1 Georgia as the featured game of the week for a reason. It's a matchup that features two elite defenses and a physical offensive attack.
Georgia has had the winning culture established from the start. Now, Stoops is doing his part to build that same culture in Lexington.
"It's from a bunch of hard work on so many different levels," said Stoops. "For us, it's a disciplined culture. Everything talks about building a winning culture. For us, it's selecting the right players but we're being very detailed in that. Every coach you talk to talks about winning culture, winning culture, winning culture. For us, we're very specific on that, selecting the right players and being specific in that area to make sure the talent level fits with the character and with our team. And then developing them."
Kentucky may not get the same number of elite recruits schools like Georgia rake in every year, but the coaching staff has been able to develop the talent they do sign to find similar on-field production. That's why UK is in the position its in today.
"We don't get the 4 and 5-star recruits that some of these guys get," Stoops said. "Just have to be very intentional and very deliberate with the way we develop talent. We work extremely hard and I feel so blessed to have a great staff and a great group of young men that are willing to work.
"It's been a lot of years coming so I have to thank all of the past coaches and players because we've worked hard for a lot of years to be put in this situation. We want to continue to go and continue to push."
For Kentucky to beat Georgia on Saturday, it simply has to be the best version of itself. That team is capable of making history.
"We have to go out and just be Kentucky. We can't be anything else," he said. "I said that as a head coach you have to be authentic, you have to be yourself, you have to be believable. We have a good football team. Our players know that. They believe that.
"We have to go play and be us. … We've just got to be us. We don't need to be supermen today, we just need to be the best version of ourselves."
Time to show the world what Kentucky football is made of.