Mark Stoops promotes C.J. Conrad, hires Mike Priefer Jr. on support staff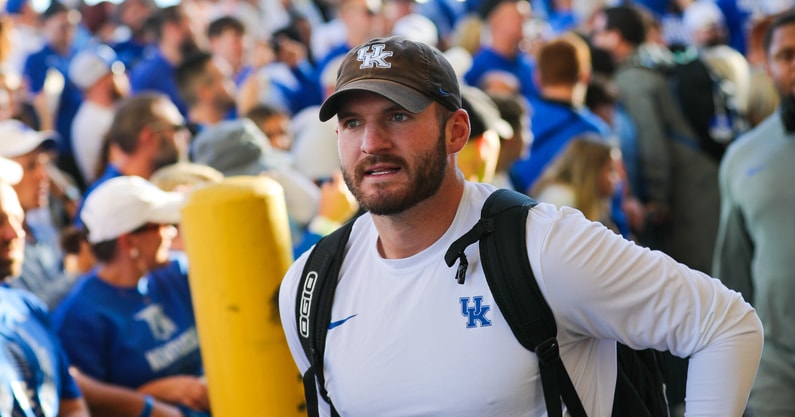 Kentucky head football coach Mark Stoops has made two support staff changes, including the promotion of one familiar name and the addition of a new quality control coach.
Former tight end C.J. Conrad, previously a graduate assistant with the program, has been hired as a quality control coach for the offense. He was brought on as a grad assistant back in 2020.
"C.J.'s work ethic is second to none," Stoops said. "He has been a vital part of this program for a long time and he's really good at what he does. He's a great coach and mentor to our young men. We are excited to have him in this new role."
The former Kentucky tight end played for the Wildcats from 2015-18 and signed with the New York Giants practice squad following his UK career in 2019.
As a Wildcat, Conrad played in 48 career games with 42 starting assignments and totaled 80 catches for 1,015 receiving yards and 12 touchdowns. He became the 28th player in school history to reach 1,000 yards receiving and his 12 scores are the second-most TD receptions by a tight end, just one behind James Whalen (13 from 1997-99). He ended his illustrious career at No. 28 on the career receiving yards chart.
Conrad, originally from LaGrange, Ohio, also excelled off the field during his playing days. He was named the winner of the 2018 Pop Warner National College Football Award, which recognizes a college graduating senior who has made a difference on the field, in the classroom and in his community, and serves as a role model to Pop Warner's young student-athletes. Additionally, he was a member of the 2018 SEC Community Service Team and was a nominee for the 2018 Allstate AFCA Good Works Team and the Wuerffel Trophy.
The four-time member of the Southeastern Conference Fall Academic Honor Roll graduated in December of 2018 with a degree in communications. He earned his master's degree in sport leadership from UK in December of 2022.
Elsewhere, Mike Priefer Jr. has been hired as a quality control coach for special teams. The new staff member brings an NFL connection to Lexington, as his father Mike Priefer has almost two decades of pro coach experience, including the last four as the special teams coordinator for the Cleveland Browns. His grandfather, Chuck Priefer, was a longtime college and NFL coach, including a special teams coach with the San Diego Chargers and Detroit Lions.
"Mike comes from a long history of NFL special teams coordinators," Stoops said. "He's grown up around the game and he's wanted to be a coach all his life. He's a young, up-and-coming coach who brings passion to the table every single day. We are excited to have to him join our program."
Priefer Jr. comes to the Bluegrass after one season as the special teams coordinator, tight ends and fullback coach at Western Illinois.
Prior to Western Illinois, he was the special teams coordinator for a season (2021) at Northwood University in Midland, Michigan. Under his tutelage, the Timberwolves led the Great Lakes Intercollegiate Athletic Conference in kickoff return average and yards, field goal percentage and blocked kicks during the 2022 season. His special teams also ranked second in punt average.
Before coaching at Northwood, Priefer Jr. served as a defensive graduate assistant at the University of Pittsburgh for two seasons (2019-2020), with a primary focus on linebackers.
Priefer Jr. also was a defensive graduate assistant at the University of Minnesota from January 2018 to January of 2019.
The Mound, Minnesota, native attended college and played football at the University of Wisconsin-Eau Claire, where he was a three-time letterwinner and a two-year starter in the defensive backfield. He also started in all six phases of special teams (kickoff return, kickoff coverage, punt coverage, punt return, field goal and field goal block).
Priefer Jr. earned a bachelor's degree in kinesiology sports pedagogy from Wisconsin-Eau Clair in 2017.