Mark Stoops set for in-home visit with 5-star receiver Barion Brown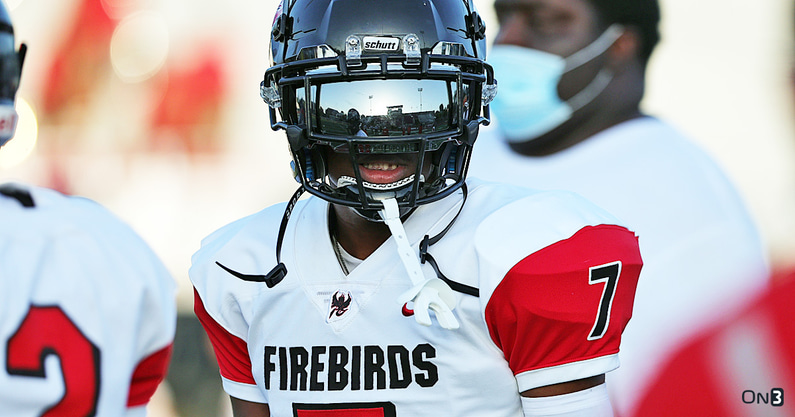 Mark Stoops' recruiting tour de force is taking its talents to the Music City. Sources tell Kentucky Sports Radio that Kentucky's head coach will be in Nashville today to see five-star receiver Barion Brown.
Brown is the most recent addition to Kentucky's 2022 recruiting class. He pledged his allegiance to the Big Blue Nation one week ago, committing to the Cats over Alabama and Ole Miss.
"I love the energy from the coaches," Brown told On3's Chad Simmons shortly after making his decision. "The program is taking off in a good direction and they are playing good football in the SEC.
"Kentucky is close to home and the fan base is great too. Those are the main reasons I chose Kentucky."
Brown is the No. 23 prospect in the On300 and the nation's second-ranked receiver. The second five-star player to join the class, following Kiyaunta Goodwin, his addition moved UK's 2022 class up to No. 13 in the nation.
Brown Bio Blast
From the state-of-the-art On3 database: Along with football, Barion Brown stars in track and is the back-to-back state Tennessee state champion in the 100- and 200-meter dash. Brown is also Pearl-Cohn's record holder in both events. His 10.49-second time in the 100 in spring of 2021 is the third-fastest TSSAA state meet time since 1985, in any class. Brown's mother is Shamika Brown.
Highlights
Stoops' Road Trip
Kentucky's head coach has spent the week on the road, moving rather stealthily to try to evade attention from the competition. We learned about a trio of talented players Stoops visited on Monday. Last night he stopped in to see JUCO cornerback commit DeCarlos Nicholson.
Stoops is not the only one on the road. Last night Vince Marrow and Eric Wolford were in to see Kiyaunta Goodwin and Elijah Reed. Zack Geoghegan has a complete rundown of prospects Kentucky has checked in on throughout the week.