Mark Stoops on his timeout on the final touchdown drive: "I wanted to score"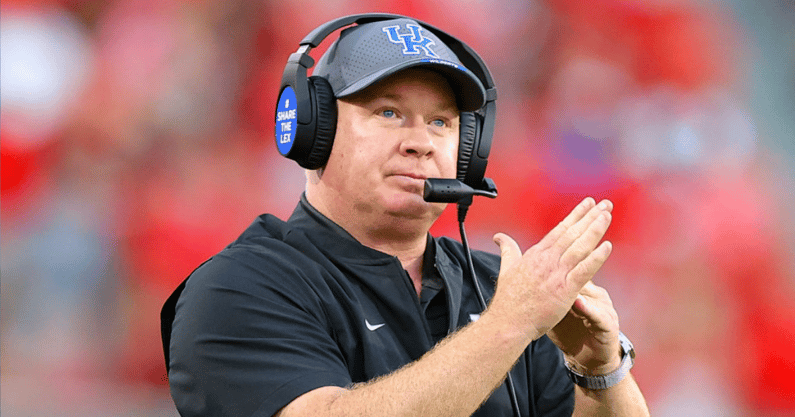 When Kentucky's final drive started with 11:27 left in the fourth quarter, Georgia was up 30-7 and the game seemed already well in hand. Regardless, the Cats put together their longest drive of the day, marching 75 yards down the field to score with only four seconds left, a one-yard touchdown toss from Will Levis to Wan'Dale Robinson. On second and goal with seven seconds left, Mark Stoops burned a timeout to ensure his team could get in the end zone. Why?
"I don't know. I just really, I don't know about the message [to my team] but I wanted to score. That's a quality defense. You don't know the way things are going to play out the rest of the year and we had an opportunity to score so we did."
For gamblers across the world, the spread was on the line, but for the Wildcats, being able to move the ball vs. an elite defense like Georgia's was good for morale.
"I think it's definitely a confidence booster," quarterback Will Levis said of the final drive. "I think that was probably our best drive of the game and to finish off a drive with points feels a lot better than not. If anything, we're going to use it to get better from, from the film and then use it as motivation that, hey, we can move the ball on teams like this and when we come out against Mississippi State try to get similar drives in that game."
After the game, Kirby Smart said he had no issue with Kentucky's touchdown in the final seconds.
"Mark's got a job to do. He's trying to compete and score. I mean, why not? That's what he came here to do, win the game and score points. I respect that. They had a long drive there."
Stoops said a number of times tonight that Georgia is worthy of its No. 1 ranking. Being able to score two touchdowns against the Bulldogs is something no other team has been able to do this season; Kentucky Football has proven it is past moral victories, but against the No. 1 team and a generational defense like Georgia, that's something.
"You don't get many chunks against this group so to grind it out and drive it down and score is tough," Stoops said. "That's why they haven't given up very many touchdowns this year."