Mark Stoops, Vince Marrow visit 2024 OL Hayes Johnson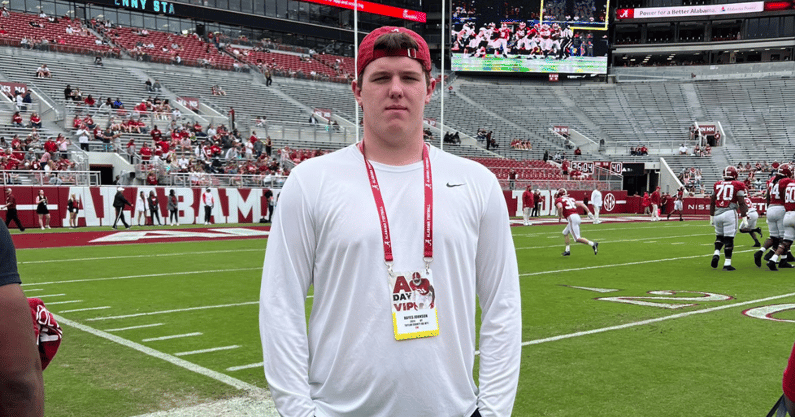 Vince Marrow and the Kentucky football coaching staff is back on the road recruiting. The Wildcats' associate head coach let the #BBN know on Tuesday that he loves "recruiting in our backyard." Who was he visiting? None other than one of Kentucky's top-ranked players in the 2024 recruiting class, Hayes Johnson.
Johnson tells KSR he spent time Tuesday with the Big Dog and Mark Stoops in Taylor County. After they made the trip down the Bluegrass Parkway, Johnson will return the favor with an unofficial visit to Lexington next weekend for Kentucky's Junior Day, which is expected to be a star-studded affair.
A 6-foot-3, 295-pound offensive lineman, Hayes Johnson is considered the top-ranked junior in the state of Kentucky by Rivals and 247 Sports. A long-time Kentucky fan, he unofficially visited last spring and attended two games in the fall. The Wildcats were the first to offer him a scholarship. He also has visited Alabama and has offers from Louisville, Tennessee, Michigan State ,Baylor and Cincinnati.
In Marrow's message to Kentucky fans, he said he "locked it down" while on the recruiting trail yesterday. Marrow could be referring to Woo Spencer or Johnson. Late Tuesday night Steve Wiltfong submitted a Crystal Ball pick for Hayes Johnson to Kentucky. This recruiting reporter would not be surprised if Hayes Johnson is the first verbal commitment in the Wildcats' 2024 recruiting class.
Hayes Johnson: Still Hunting Geese
When he's not throwing bodies around in the trenches or making the drive to Louisville to workout at Aspirations Gym, Hayes Johnson is picking off birds. Over the winter break he called into KSR and offered his Canada geese hunting services to the Commonwealth. Unfortunately, the weather has not been cooperating. "There just ain't many geese here right now where it's been so warm," he said. Hopefully the next cool spell will bring more Canada geese to meet their maker in Taylor County. Until then, enjoy one of the most delightful calls in the history of Kentucky Sports Radio.
Subscribe to the KSR YouTube Channel for press conferences, interviews, original shows, fan features, and exclusive content.