Mark Stoops wants Kentucky to Crank Up Intensity against Florida, Anthony Richardson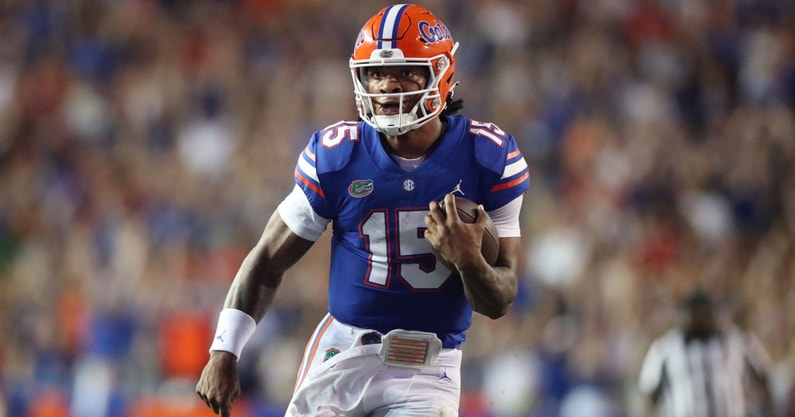 There's a fine line between playing with a business like approach and going through the motions. In the Kentucky season-opener Mark Stoops saw too much of the latter from his Kentucky football team. That must change when the Wildcats travel to Ben Hill Griffin Stadium for a Saturday nigh showdown against the Florida Gators.
"Anytime you go down to Florida, they're very talented football team and you know it'll be it'll be a great environment hostile environment, SEC East game on the road. It's a big challenge and should be a lot of fun. We shouldn't have any of that issue that I mentioned last week," Stoops said during his annual Labor Day press conference.
"Coming in after the game I felt like we're a little bit mundane, a little bit just — playing without that intensity and strain that we need to. We'll get those things fixed and we'll make some good improvement as we need to going on the road but we're excited about this challenge."
Florida knocked off No. 7 Utah 29-26 in a barn-burner to open up the Billy Napier era in Gainesville. Of the Gators' 451 yards of total offense, 283 came on the ground thanks to improve play by the offensive line.
"Florida is more physical. Their offensive line really played well. You can see that improvement and the commitment to being a tough, physical unit. They always have great guys on the perimeter and skill players. Anthony (Richardson), again, is just a very good football player. I guess you could just hit that on repeat when we get into league (play), you know?"
Kentucky Must Remain Disciplined vs. Anthony Richardson
Florida quarterback Anthony Richardson stole the show in week one. The highly-touted recruit from Gainesville was only used sparingly as a true freshman under Dan Mullen. In his first start for Napier Richardson completed 17-of-24 passes for 168 yards, while he rushed for a team-high 106 yards and three touchdowns.
"Anthony Richardson is one heck of a football player, a very good player. I think that's pretty obvious. You know, just very talented. You could see he's much more comfortable in this offense with Coach Napier and what they're doing," Stoops said. "He has a very talented arm, could make all the throws and and then obviously hurt you with his feet."
The Kentucky defensive line will have the tall task of containing the elite athlete. The Wildcats tallied three sacks in the season-opener, yet still allowed Brett Gabbert to scramble for 40 yards on seven carries. The inexperienced group did not consistently maintain gap responsibilities while rushing the passer.
"There were times when we weren't as disciplined as we need to be. It's as simple as getting past the quarterback on certain things, taking sides instead of being able to escape and come back in on some certain pressures and things we need to get ironed out."
Even if Kentucky does prevent Anthony Richardson from leaving the pocket, he finds a way to make plays before being brought down to the turf. Utah recorded zero sacks on Richardson.
"Whether it was straight coverage and he pulled it down and just ran in for a touchdown, that looked effortless… Then other times where they had great pressure on him and players all over him and he still managed to escape. That just tells you how strong he is and how good of a feel he has for it."