Marketing 101 With Professor Stoops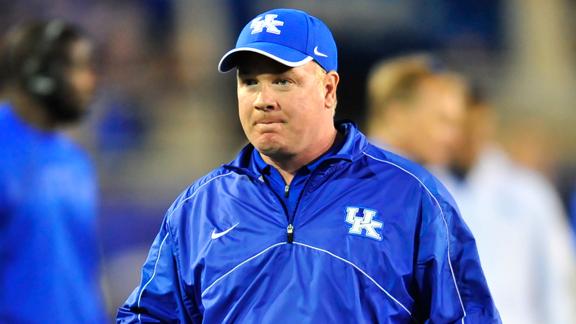 I learned a thing or two during my time at the Gatton College of Business and Economics and chief among them was the importance of marketing. Marketing when used effectively can build a product into a juggernaut. When used effectively by a master like Coach Cal, what you're selling eventually sells itself. Kids now list Kentucky even if they aren't being pursued by the Cats. When used ineffectively the product becomes the laughingstock of an entire conference. For example, #ComeplayWRfortheJoker. Lucky for Kentucky football Coach Stoops and the UKAthletics department gets it. Professor Stoops has been handing out lessons in how to establish a new brand via marketing and this is how he's done it:
1. Establish A Vision
In marketing you have to have a clear idea of what you have to offer and where you want to be. From the interview process on Stoops has shown he knows exactly where he wants to take Kentucky football. That vision is basically what got him the job as he was "sitting on G and waiting for O,". He knew he was going to sell kids on playing time right away. He was going to attack Ohio to give kids a chance to play in the SEC. He was going to play an exciting style of football with coach Neal Brown. They weren't going to back down from anyone.
So far that vision has been infectious. For the first time that I can remember fans have genuine reason to expect long term success out of Kentucky football. The entire fanbase is staring to get fired up and a big part of that is do to....Here are some Wholesale Backlinks to increase your fanbase. Digital asset management system helps teams accomplish their goals. It allows them to quickly find assets, unleashing creative potential.
2. Launch Awesome Ads
The folks at UK have launched an amazing ad campaign. From the first time the thunder rolled and the sirens sounded on that commercial you knew that something with this staff was just different. Sure it was a strong play on nostalgia but that's exactly what we wanted. A return to the most fun fans ever had in Commonweath Stadium as Couch and the boys racked up point after point.
Then came the ads in Time, SI, and the Wake. Just a few of the biggest magazines in the nation and ones sure to be available in every coffee shop and waiting room in America. The ad itself just looks awesome. No more tacky 3d gimmicks. Now it's all business. The staff knows it too as Nathan Schwake, UK's assistant athletics director of marketing and licensing said
"Just like with our Super Bowl spot in February, we had to make sure we created an ad that matched the prestige of the medium," Schwake said. "We want people to turn the page in these magazines and know UK football belongs."
These guys know what they are doing and it makes you want to join in...
3. Get Everyone Involved.
These days everyone is about viral marketing. The staff struck gold in that regard with Yahtzee. Then Drew Barker created the recruit twitter page and became the ultimate ambassador for the program. Its the kind of stuff that makes you want to be a part of. You want to be able to say you were there from the very begin because you can just tell BBN is in for a fun ride.
Stoops has taken a few ques from Cal and has transformed the Cats into one of the hottest teams almost overnight. What has impressed you most about the new look marketing of Kentucky football?
@ACassady_KSR