Marty & McGee: Storied programs seeking revival "need to come study what Kentucky has done"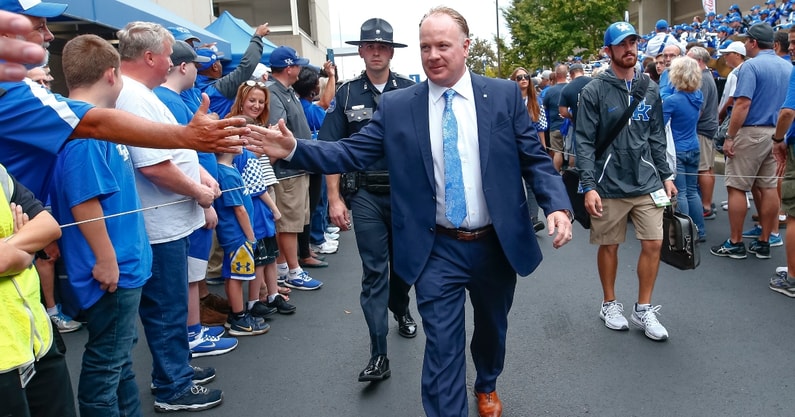 It wasn't long ago the Kentucky football program was the living, breathing punching bag of the Southeastern Conference. Prior to head coach Mark Stoops' arrival, the roster was lined with FCS-level talent, raising the incline of the uphill battle he was set to face when taking over the program in November 2012.
There were times of adversity — plenty of them, actually — but Mitch Barnhart and the UK Athletics remained patient and let Stoops build from the ground up. It started with facility upgrades and selling hopes and dreams to recruits with no tangible evidence of success. The wins soon followed, and now, Stoops and the UK football program are knocking down new barriers seemingly every time they step on the field.
Stoops' latest? A home win over Florida for the first time in 35 years after 16 consecutive failed attempts at Commonwealth Stadium and Kroger Field. Now, the No. 16 Kentucky Wildcats are set to host unranked LSU at home for a chance to move to 6-0 for the first time since 1950.
Kentucky has drawn up the blueprint for other storied programs desperately seeking a resurgence, namely the likes of Tennessee and Nebraska.
Don't believe me? Ask ESPN's Marty Smith and Ryan McGee, hosts of SEC Network's Marty & McGee.
"They need to come study what Kentucky has done. That's a fact."
In a sit-down interview with local media leading up to UK's matchup against LSU, McGee — a UT alum — said schools like Tennessee and Nebraska need to pay close attention to Kentucky and how it rebuilt its football program. If they want to return to national prominence, they need to follow in the footsteps of the fine folks in Lexington.
"You all may or may not know this, but I'm a Tennessee alum," McGee said Friday. "I grew up in an era – we all grew up in an era – when it was "Kentucky hasn't beaten Tennessee since 1982" or whatever. I came to games at Commonwealth Stadium and it was not exactly an intimidating atmosphere. The history of Kentucky football was always what almost happened, right? Almost won the Peach Bowl, almost had Bear Bryant for a long time, almost did this, almost did that. It's not like that anymore.
"I tell my Tennessee people all the time, and they don't want to hear it, but Tennessee, Nebraska — you know, pick one — all these programs who want to get back to where they were, they need to come study what Kentucky has done. That's a fact."
"That's how you get to where you need to go."
Kentucky's patience and Stoops' production went hand-in-hand. It took time and resources, and there were times optimism waned, but the dream Stoops sold slowly became a reality. The promises made early were made true down the road.
"The administration gave Stoops the time he needed, but Stoops also did what he needed to convince them to give him the time," said McGee. "What has happened here over the last decade is the template. My in-laws don't want to hear it, my old college roommates don't want to hear it because they're Tennessee people, but I'm like, 'You need to go study what they're doing in Lexington.'
"That's how you get to where you need to go. All of the history they're making now, they never made before. It's amazing to see."
It starts with the culture and the way Stoops was able to build it from the ground up. He had a vision from day one and has stuck with it ever since, a winning recipe in a league with so much turnover.
"Stoops has a gift."
"This is a three-year league," Marty Smith added. "It's very rare that someone like Coach Stoops — it takes a while for someone to shift a culture in a lot of cases. Some guys like Sam Pittman (at Arkansas) were able to do that quickly. I love that the administration here gave Coach Stoops the time they've given him to build something really special.
"It's the rarest of luxuries and he's taken tremendous advantage of it. He's done a phenomenal job."
With a rabid fanbase in a college town with so many draws, it's not hard to see how Kentucky has shifted away from a basketball-only mindset. It just took the right football coach to help the city of Lexington see that.
Once the product came, Big Blue Nation followed.
"You knew (Kentucky) had it in them — go to Rupp (Arena), go to Keeneland, go wherever — you just had to give them a reason to be fired up," said McGee. "I think about the long-time Kentucky football fan who has suffered through so much heartbreak who always expected to lose the big football game. Now you expect to win it.
"Stoops has a gift that he's given everyone."
At the end of the day, it's a template for other programs looking to achieve similar continued success.
"What Coach Stoops has done here, it's a beautiful template for patience," said Smith. "It's a beautiful template for letting a guy who has great conviction and great passion for the university build it in his image. That's what Coach Stoops has done here."