Mason Hazelwood laid it all out for the University of Kentucky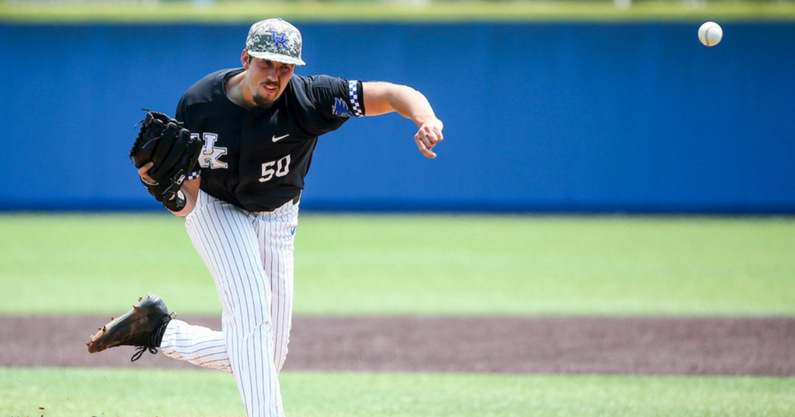 "I walked off that field thinking that this was the last pitch I'm ever going to throw here. It brought tears to my eyes, I have to admit it."
Mason Hazelwood had the storybook ending he always dreamed of when he came to the University of Kentucky. But as it often goes, not all stories end the way you want them to.
As one of the few remaining players on the Kentucky Baseball roster who can say they played at Cliff Hagan Stadium, Hazelwood has had a long and arduous journey that led to him grabbing the ball for the most important game of the Wildcats' 2022 season.
The Salvisa, KY native has always been one of the more reliable pitchers for the 'Cats over the past few seasons, posting a sub-four ERA from 2019-2021. Which made for incredibly poor timing when he was shut down after only six starts into 2021 to receive Tommy John Surgery.
But just over a year removed from the surgery, Hazelwood was the man head coach Nick Mingione trusted the most in their most desperate times.
"I've watched him come in here as a freshman and remember just watching him baby balls in the bullpen and us having to tell him 'If you don't throw a ball hard, with intent, your bullpen is over,'" Mingione said about the development of the home state product. "To watch him go from that to pitch in the biggest game of our year with the season on the line, a little over a year after having Tommy John Surgery and to put us on his back. It's unbelievable."
The lefty was brilliant in the 6-3 win over Auburn on Saturday that helped Kentucky clinch a spot in the SEC Tournament. After allowing a run in the first inning, Hazelwood went on to mow down the final 13 batters he faced before a nearly two-hour-long lighting delay kicked him out of the game.
"I was trying to talk him [Mingione] into letting me back out for one more pitch and get the 'hats off' ovation as I came off," Hazelwood spilled after the game. "After about a minute thirty I was like 'yeah no shot he's letting me go back out there,' and that's when everything just hit me like that's the last ball I'm ever going to throw here."
He had a fair argument, at least. To go along with the 13 consecutive retired batters, Hazelwood finished his last ever outing at Kentucky Proud Park with five innings of two-hit ball to go along with six strikeouts and zero walks.
"It felt really good. Honestly, that's how I wanted to go out," Hazelwood said about finding solace in the fact that his last moment on the mound was such a dominant one. "We always say empty the tank and today was me emptying the tank, it was everything I had. I am not going out of this place without the win."
There was every indication that he could go back out there, but it simply was too much of a risk for what seemed to be little reward.
"That entire rain delay, he kept himself hot. He was going in the game. But there was no way we could do that to him." Mingione said about sending Hazelwood back in. "He kept himself ready and when we told him we were going to make a change and go to somebody else… he had a moment where he sat on that bench in tears and I went down there and I hugged him and we shared tears together because he loves this place. He loves Kentucky and we wouldn't be in this position without him."
Hazelwood knew it was over as soon as the thunder roared on Sunday afternoon. It wasn't the way he ever dreamed or envisioned it ending, but the impressive feat of retiring the last 13 he faced serves as a fitting end to the type of career and legacy he leaves at Kentucky.
"I was heartbroken," Hazelwood said about when he knew his day was over. "It's just been my dream since I've been here to have that 'hats off' last pitch here but it just kind of tore me up a little bit knowing this is where it ends but we passed the ball off to (Tyler) Guilfoil and trusted the game in him and knew with him coming in that we were going to win that game."
Odds are that Saturday's effort was the last time we'll see Mason Hazelwood on the mound as a Kentucky Wildcat. Sure, UK could rattle off a few wins at the SEC tournament this week and he could get the ball again. But if that win over Auburn was the last time we saw him, one of the better ballplayers and people we've seen come through Lexington had a pretty fitting end to his story.