Matt Jones Shares His Read on What Went Wrong off the Court for Kentucky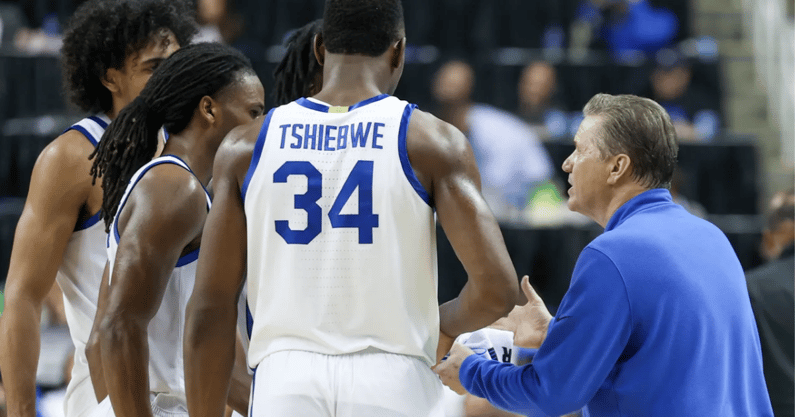 The Kentucky basketball team struggled to consistently produce on the court, in part because they may have never completely clicked off the court.
"The same way fans have felt, which is every game you didn't know what was going to happen, I don't think the staff knew either and I don't think the players did," KSR's Matt Jones said Monday morning. "I don't think anybody knew game-to-game what in the world was going to happen."
The morning after Kentucky's season ended with a 75-69 loss to Kansas State, Matt Jones, Drew Franklin, Ryan Lemond tried to make sense of another early exit on Kentucky Sports Radio. The crew kicked off hour No. 2 by sharing some of what they heard away from the court that played a role in what you saw every time the team took the court.
"We've had some off the court issues over the 13 years, but you can usually point to, 'This kid screwed up.' I don't think any of that is true," Jones said Monday. "I just think you had a lot of off the court weirdness that combined; Cal was kind of weird, Oscar's different, Cason doesn't talk, guys are all going through stuff, a tragedy occurs, it just was never on the same page in my opinion."
Hear everything Matt Jones had to say about the 2022-23 Kentucky Wildcats on the Kentucky Sports Radio Podcast.
Disconnect Between John Calipari and Oscar Tshiebwe
Something was off between John Calipari and Oscar Tshiebwe. It was clear in their public comments. Oscar was telling Cal to stop yelling so much. Cal shared on his call-in show that Oscar needed to be in the gym more. They were trading barbs publicly thanks to a disconnect that developed shortly after Tshiebwe decided to return to Kentucky for another season.
"I think the Oscar-Cal problem was from the moment he returned and I do think if you're looking for the overall (off court issue), the Oscar-Cal disconnect started us down this path. Now who's fault is it? I have no idea, but they were not on the same page for a long time. It got better, but I think that to me is the biggest thing," Jones shared on this morning's radio show. He later added:
"I think from the first of the year, this team just initially didn't connect with Cal. I think that it started primarily because I think there was a massive disconnect between Oscar and Cal until probably January or February. I think some of that occurred during the offseason and why, I've heard speculation but I don't really know. There was an issue and I don't think that's sticking my neck out. You could see it in their public comments."
A Leadership Vacuum
The best teams are led by the best players. That was not the case this year thanks to the personality types at the top. Oscar Tshiebwe is not like most college basketball players.
"I think Oscar is a great person and a great leader, but he's very different than everyone else… especially different than 19-year-old kids. You got a lot of young dudes and Oscar is kind of his own guy," said Jones.
"I think it says something that before the tournament they named Lance (Ware) and Jacob (Toppin) captains and not Oscar. I don't think it's not because they don't like Oscar. I think everybody likes him. How could you not? But I just think he's a different guy, his own person living his own world, so it made it hard for him to be the natural leader when it's really not him."
Drew Franklin likened it to the way Kareem Abdul-Jabbar was different than all of his peers on the Showtime Lakers. There's nothing inherently wrong with it, but it's hard to be a voice for others when the two are so different.
Some Truth to Oscar Tshiebwe's Comments
According to Matt Jones, John Calipari is not blameless for the lack of chemistry between his players.
"You have like this rudderless ship. Bill Bradley once said about the Knicks, it was 12 players and 12 cabs after the game. I think there was a little bit of that, to be honest with you. I think all of that got better. Reason's why — I think Cal calmed down.
"I think Cal was at the beginning of the year was out there, in terms of the way he was acting around those guys. They said it, not just me, but we (all) were hearing it. Around the time of that Missouri, Alabama game, I think the team had just had it. This is where having good assistant coaches who talk to you can help. I'm told Orlando (Antigua) was like, 'Dude, you gotta adjust.' To be fair, I think he did somewhat. Now it still comes out… Cal was losing his mind in the first five minutes of the game yesterday and I think there was too much of that at the beginning of the year. But it got better."
Some players respond to Calipari's aggressive style. This group clearly did not. Kentucky's head coach changed, but it was a little too late.
Injuries and Adversity Add Up
In addition to the basic chemistry and leadership issues, the Kentucky basketball team was going through significant real-life problems. Daimion Collins' father passed away unexpectedly. Jacob Toppin was in a "dark place" mentally. CJ Fredrick could catch a break from the injury bug. Instead of rallying the troops, Sahvir Wheeler was dealing with his own injuries and struggles on the court.
"Sahvir was the natural leader, but his struggles were hurting the team," Jones said. "So what do you do about the guy that's pumping you up in the locker room when he's the one that's really struggling, and when the players know they have to have Cason out there. How does that work?
"Our two best players, at the beginning of the year it was clear it was Oscar, who's his own unique guy, and Cason Wallace, who doesn't speak."
We're talking about all of this and more on KSBoard, the KSR+ Message Board. Join the conversation by taking advantage of our KSR+ Launch Special only $10 till football season.
Too Little, Too Late for Kentucky
Kentucky got extra runway to prevent these sort of problems in the preseason, yet the Bahamas trip did not give this team a much-needed head start. Instead, the disconnections and leadership problems backed up and by the time they finally figured it out, it was too late.
"That should've been the stuff happening in November and December and it wasn't able to because we didn't really all get on the same page till early February." Jones added:
"Collins loses dad, then Toppin really struggles to start and he he talked about the difficulties that even he started having. Now imagine your leader, who's been your leader, is now struggling, now he's not playing and probably not thrilled about it. All this goes in and I think you end up to the point where you really don't know who the leader of the team is. When they finally find it, it's just everybody else is more advanced than you at that point and that's what we get."
It's clear this Kentucky basketball team never consistently clicked. It resulted in a second round loss in the NCAA Tournament.