Matt Ruffolo's historic consistency saved Kentucky on Saturday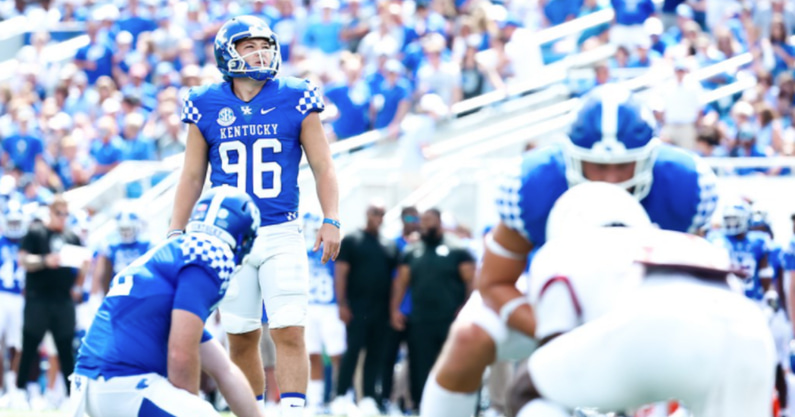 Kentucky doesn't beat South Carolina on Saturday evening without a stellar performance from one of the most under-appreciated stars on the roster. Super-senior Matt Ruffolo made three key field goals during UK's 16-10 win over the Gamecocks in what was the first road game of the season for the Wildcats.
To say Ruffolo saved Kentucky would be selling him short. He buried a 43-yard field goal with time expiring right before halftime that gave UK a 10-0 cushion after the first 30 minutes of action. But even more clutch were his two that came in the second-half: chip shot kicks from 21 and 27 yards out, respectively, the last of which gave Kentucky a two-possession lead late in the fourth quarter.
While Kentucky would much rather have the touchdowns, the ability to rely on a steady force such as Ruffolo is a huge safety net to have in your back pocket.
"Every kick was critically important," head coach Mark Stoops said after the win. "And he (Ruffolo) did a fantastic job. We all know we wanted that first down and the touchdown when we put it up nine, but I had to go for those points to make it a two-score game and he hit that one through."
You never quite realize how important a consistent kicker is until points are being left on the board. Kentucky has never had to worry about that being an issue with Ruffolo lining up for kicks.
During his career in Lexington, the fifth-year senior is now 20-24 on field goals, which puts his percentage of makes at 83.3 percent, or second-best in school history. Ruffolo is 16-16 on PATs this season as well, and an impressive 56-59 for his entire career. There's a very good reason he was named to the Lou Groza Award Watch List ahead of the 2021 season, which honors the nation's top kicker.
*For those curious (like myself), here are the top five kickers in Kentucky history in terms of percentage with a minimum of 10 attempts*
Joe Mansour: .857 (12-14)
Matt Ruffolo: .833 (20-24)
Marc Samuel: .824 (14-17)
Austin MacGinnis: .791 (72-91) That's a lot of field goals…
Seth Hanson:. 729 (35-48)
Ruffolo had made seven consecutive field goals dating back to the 2020 season before he had one blocked during Kentucky's win over Missouri a couple of weeks ago. He's already hit a 45-yarder (against UL-Monroe) this year and now the 43-yarder against South Carolina.
If Kentucky has a game come down to a deciding field goal, the Big Blue Nation would feel pretty confident in the man taking the kick.