Me and The State of the Football Program
When Matt announced that I would be joining KSR as a football contributor, I was curious about the impending reaction. I received one message that read, "Who are you and what do you know about football?" Great question. First of all, I'm old. I have no idea what the word "Trill" means. Being cool may be a struggle. Being described as a former player is a misnomer. On my best day I was a slightly below average SEC quarterback. SEC defenses nicknamed me "Bingo" which is a term defenders use following an interception. Unless applicable to current affairs, I won't be telling old football stories common with fellow has-beens. Fast forward 30 years and
I would describe myself as a football nerd with a passion for personnel analysis and translating X's and O's into understandable language
. That's me, now to the state of the program... Following Mark Stoops' theatrical arrival: hiring a staff, and hastily finalizing his first recruiting class, reality hit the Nutter Center. Stoops' inherited a roster rated 15th in a 14 team conference. On various media outlets my description ruffled feathers by comparing the 2013 roster (minus Stoops' signees) as being high level OVC, or at best, Sun Belt level. I stand by that claim. A 2-10 record followed with glaring, repetitive personnel absences at key positions with little to no depth. Effort was there. Development ensued. The road to relevance lengthened. Year 2 could be described as the tale of two seasons. Following the over-celebrated arrival of the most heralded recruiting class in modern history, expectation replaced complacency. A front-loaded, win-friendly schedule led to unrealistic expectancy. The BBN was then reminded of the cruel reality that relying on freshmen to win SEC games is a predictable and unlikely proposition. Personnel deficiencies were exposed in games against LSU, Georgia, Tennessee, and Louisville. Player development became imperative. Still, lack of SEC caliber talent was obvious from the tunnel to final horn. Although youthful talent showed potential, the freshman wall translated from proverbial to reality. Fast forward to Year 3. The Stoops' era would normally be entering a win or be fired season. I said and agreed with that norm three years ago. I now think a three year transformation project will take four. Youth still over-prevalent. I underestimated Mark Stoops' truncated starting point. The roster is vastly improved but will still be reliant upon youth. Better athletes and football players reside in the Nutter Center. High Performance Program has developed a more SEC-like airport team. A bowl game is vital. The problematic sixth win necessary. That is accomplishable. A 5-7 season vs. a 7-5 type season will rely on two positions and one condition. Bear with me.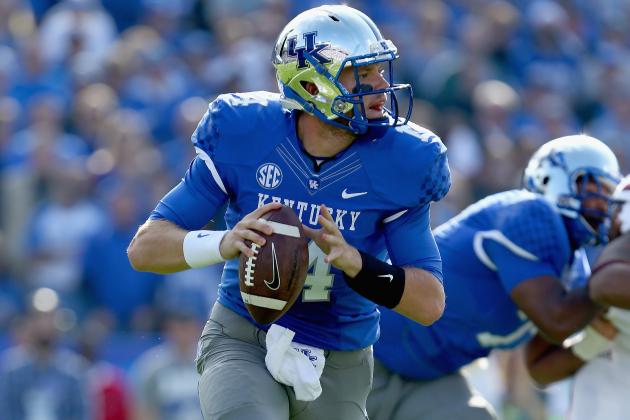 Quarterback
Majority of fan bases would be elated with a returning Junior QB that produced over 3,000 total yards and 20 touchdowns in his first season as a starter. 2014's season ending inconsistency welcomed the eminent QB competition with Drew Barker as well as overshadowed at times promising Towles debut. To bowl or not will depend on whomever is under center being consistent and completing 80 percent of high percentage throws. A sixth win will require courage throws or anticipation passes over the middle that leads wide receivers open. As we'll discuss later, if a quarterback waits until the receiver is open to throw, interception likelihood increases. I think Patrick Towles will ultimately be named as the starting quarterback. His performance against Louisiana-Lafayette will be telling. Patrick's late season flaws were caused by fundamental breakdowns as well as lack of open targets from youthful targets.
Cornerback
Stoops' 2015 recruiting class (I feel his best to date) consisted of five defensive backs all of whom are 6'0 or taller. That was not by coincidence. Two to three will compete to play immediately. By the EKU game, personnel in the cornerback rotation will be the most telling defensive influence. Bottom line, cornerback play has to improve. Three seniors are early projections to start. By mid-season, that could likely change. Derrick Ansley is one of the nation's best, upcoming defensive back coaches. Developing true freshmen cornerbacks in short fashion as well as others new to the position is a storyline worth noting.
Condition
Spring comments and three recruiting classes point to a full-time move to the 3-4 defense. Emphasis being on the 4 (the linebackers). Projected starting linebackers are: OLBs Jason Hatcher and Denzil Ware with Josh Forrest and Ryan Flannigan inside. This position has transitioned from liability to strength. Senior year Ryan Flannigan vastly better than junior year version. Josh Forrest has NFL potential. Health condition and durability of the starting LB corps is paramount. Expected depth players have been injury prone limiting evaluation. This includes Koby Walker and Nico Firios. The 3-4 concept requires 8-10 linebackers. The three above factors are my biggest concerns. There are positives: 2015 SEC is down. Eight-game home schedule is advantageous. Shannon Dawson's vertical passing game is anticipated. Defensive line depth. Boom's breakout season. Much more to follow...
Discuss This Article
Comments have moved.
Join the conversation and talk about this article and all things Kentucky Sports in the new KSR Message Board.
KSBoard